SuperGroup super hot as sales soar
LONDON, Sept 14 - SuperGroup (SGP.L), the British company behind the Superdry fashion brand worn by celebrities such as David Beckham, reported soaring sales, underscoring its status as one of the hottest fashion labels around.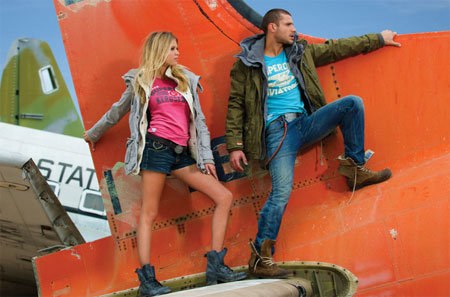 Photo: www.superdrystore.com
But shares in the retailer and wholesaler, which listed at 500 pence in March, fell 4.2 percent to 1,101 pence by 1204 GMT, valuing the business at about 823 million pounds ($1.27 billion), having risen 7 percent on Monday. The FTSE All Share index was 0.2 percent lower. "It's had a very strong run, so it's just a bit of profit taking," said Nick Bubb, analyst at Arden Partners.
SuperGroup, which had Britain's most successful IPO so far this year, said on Tuesday total sales jumped 59.8 percent to 32.8 million pounds in the three months to Aug. 1, its fiscal first quarter.
Founder and Chief Executive Julian Dunkerton, who along with SuperGroup's other management shared 105 million pounds of the 120 million pound IPO proceeds, forecast a successful year outcome and said he would not expect growth in sales of the company's trademark T-shirts, hoodies, check shirts and jogging bottoms to slow, despite tough macro headwinds.
"I see no reason to believe that we will not continue growing in the nature that we have been growing. Young people have to look good," he told Reuters.
Dunkerton said SuperGroup, unlike fashion brands such as French Connection (FCCN.L), would sustain its growth because it was hitting a gap in the market for quality, value for money, branded clothing that is not reliant on one product or one logo.
SuperGroup, whose clothes are a favourite of film stars Leonardo DiCaprio and Zac Efron, trades from 49 stand-alone Superdry and Cult stores in Britain and 64 concessions and has a wholesale business in 34 countries.
The company has a 20 stores a year opening programme and sees scope for 150 Superdry and Cult stores in UK/Ireland.
Although results of British retailers have generally started to improve following the recession, many experts think the sector faces a harsh winter as the government cuts spending and raises taxes to rein in a record public deficit.
Dunkerton was, however, relaxed about the austerity measures impacting his business. "The (country's economic) problems two years ago were in my opinion far worse than these (current) problems, I don't particularly feel vulnerable," he said. He is also unconcerned about rising cotton costs hitting gross margins, arguing volume growth would offset any impact.
Separately on Tuesday, a survey from the Nationwide Building Society said British consumer morale rose in August, while Debenhams (DEB.L), Britain's number two department store group, said year profit would be slightly ahead of market expectations.
Arden Partners' Bubb sees SuperGroup's year to end-April 2011 pretax profit at 42 million pounds and earnings per share at 38.5 pence, giving it a price earnings ratio (PE) of 29.7 times, compared with a sector average of 14.7 times.
"The rating is high but it is still on a much lower rating than (online fashion retailer) ASOS (ASOS.L) and it is growing faster than ASOS," he said. Bubb said the market was factoring in the possibility of SuperGroup pressing on to become a new global superbrand like Abercrombie & Fitch. SuperGroup's first-quarter retail sales increased 62.7 percent to 22.3 million pounds, driven by new store openings, while wholesale sales were up 53.9 percent to 10.5 million pounds, boosted by strong overseas growth.
Freddie George, analyst at house broker Seymour Pierce, raised his price target to 1,300 pence, describing the results as "outstanding", given tough comparatives and the distraction to shoppers of the soccer World Cup in June. ($1 = 0.6488 pound)
By James Davey
© Thomson Reuters 2023 All rights reserved.