SuperGroup in vogue as sales growth accelerates
LONDON, Nov 10 (Reuters) - SuperGroup (SGP.L), the British company behind the Superdry fashion brand, said second-quarter sales jumped more than two-thirds, underscoring its position as one of the fastest-growing clothing companies in the world.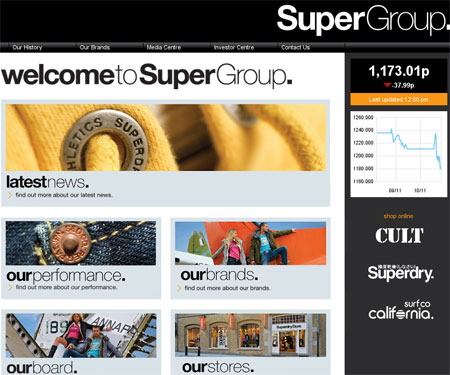 Supergroup.com
The firm, whose clothes are a favourite of celebrities such as David Beckham, Leonardo DiCaprio and Zac Efron, said on Wednesday its sales increased 68.4 percent to 57.5 million pounds ($92 million) in the three months to Oct. 31, having risen 59.8 percent in the first quarter.
Those figures highlight the popularity of its trademark T-shirts, hoodies, check shirts and jogging bottoms show no sign of waning, and reflect its 20 stores-a-year opening programme.
It trades from 55 standalone shops and 69 concessions in the UK and has a thriving overseas wholesale business.
SuperGroup shares have more than doubled since listing at 500 pence in March, making it one of Britain's most successful IPOs this year.
The stock was down 0.9 percent at 1,197 pence at 1033 GMT, broadly in line with the FTSE Mid 250 index, and valuing the business at 967 million pounds.
"In terms of share price the only comparison in Britain in my opinion is (online fashion retailer) ASOS (ASOS.L) and when you start comparing you start to say 'actually the shares could have a bit further to go,'" founder and chief executive Julian Dunkerton told Reuters.
He believes SuperGroup, unlike fashion brands such as French Connection (FCCN.L), will sustain growth because it has found a gap in the market for quality, value-for-money branded clothing that is not reliant on one product or a single logo.
SuperGroup trades on a prospective price-earnings ratio of about 27.8, while ASOS (ASOS.L), which on Monday posted a 59 percent rise in first-half profit, is on 51.6.
"The rating is very high, but all the signals are flashing green not red ... Superdry is emerging rapidly as a potential global fashion superbrand," said Nick Bubb, analyst at Arden Partners, who has a target price of 1,375 pence.
Of the seven brokerages that cover SuperGroup, four have a buy rating and three a hold.
The firm's second-quarter retail sales increased 78.6 percent to 32.1 million pounds, while wholesale sales rose 57 percent to 25.4 million pounds.
Dunkerton, who along with SuperGroup's other management shared 105 million pounds of the 120 million IPO proceeds, was bullish about the outlook for 2011.
That is in spite of government spending cuts, tax increases -- including a VAT rise in January -- and the soaring price of cotton.
"VAT's a pain ... and the cotton thing's a pain ... but as you're growing and getting stronger the macro story becomes less relevant," Dunkerton said.
($1=.6256 Pound) (Editing by Paul Sandle and David Hulmes)
© Thomson Reuters 2022 All rights reserved.