SuperGroup eyes Regent Street "game changer"
LONDON - SuperGroup, the British company behind the Superdry fashion brand, reckons the opening of a new flagship store on London's Regent Street will revive the firm's fortunes after a tough first-half that saw profits fall 4 percent.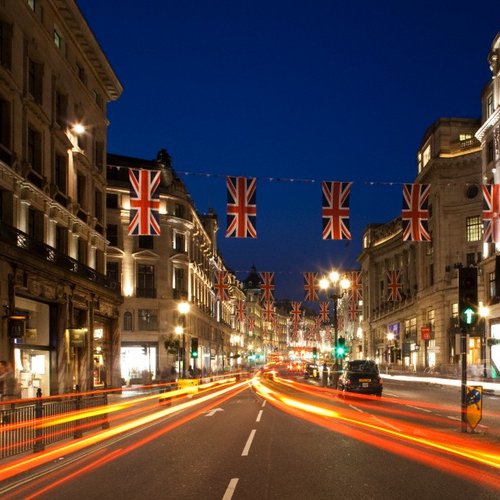 Regent Street, Photo: Corbis Images
"Having one of the largest stores, that I believe will be one of the busiest stores, in one of the prime locations, in one of the great capitals of the world, for me it's a game changer," Chief Executive Julian Dunkerton told Reuters on Wednesday.
He said he hoped the first floor of the Regent Street store would be trading at the beginning of next week, with the remaining three floors open by April next year.
Shares in SuperGroup rose nearly 11 percent after the firm posted an expected lower first-half profit and said trading had improved in its third quarter. The lower profit reflected the botched implementation of a warehouse IT system upgrade.
"The impact of the Regent Street store should not be underestimated. It will most importantly enable management to further develop the assortment and the brand, which remains very much in vogue," said analysts at Seymour Pierce, who forecast a full-year pretax profit of 54 million pounds.
The firm, which issued a profit warning in October, said its warehouse system and operational issues had been resolved but would cost it about 8.8 million pounds of profit for the full year.
SuperGroup was one of 2010's most successful stock market flotations. After listing at 500 pence 21 months ago, its shares rocketed to a high of 1,899 pence in February this year after a procession of stellar sales figures.
But a poorly received fourth-quarter trading statement in May and October's profit alert prompted a dramatic reversal.
The stock was up 54 pence at 556 pence at 0944 GMT, valuing the business at about 440 million pounds.
SuperGroup made an underlying pretax profit of 13.0 million pounds in the six months to Oct. 30, down from a profit of 13.5 million pounds in the same period last year.
The firm, whose clothes are a favourite of celebrities such as David Beckham, Leonardo DiCaprio and Zac Efron, said total sales of its trademark T-shirts, hooded tops, check shirts and jogging bottoms increased 51 percent to 136.1 million pounds.
It said its retail business in the first six weeks of the third quarter had delivered a positive like-for-like sales performance, showing an improving trend over the second quarter's fall of 3.3 percent. The wholesale business was performing well, Supergroup said.
CAN ALWAYS DO BETTER
Dunkerton dismissed concerns over the longevity of the Superdry brand, arguing that the fact the group was currently showing like-for-like sales growth against very strong figures last year "puts that whole thing to bed."
"Christmas is going well, I'm very pleased the way it's going. Could we do better? I believe we could always do better," he said.
With UK consumers' disposable incomes being squeezed by rising prices, muted wages growth and government austerity measures, confidence is low and British retailers, nervous about spending in the key Christmas trading period, are discounting heavily.
Industry data for November was weak and firms, such as fashion retailer French Connection and video games retailer Game, have already issued pre-Christmas profit warnings.
Last week outdoor goods firm Blacks Leisure put itself up for sale and shoe shop group Barratts collapsed into administration, threatening nearly 4,000 jobs.
SuperGroup currently trades from 72 UK stores and 101 international licensed, franchised and owned stores. Dunkerton sees scope for well over 400 franchised stores in Europe alone and is also considering an entry into China and India. (Reporting by James Davey; Editing by Julie Crust and Jodie Ginsberg)
© Thomson Reuters 2022 All rights reserved.