Speedo's suit divides swimming world
By Ben Klayman
CHICAGO (Reuters) - A revolutionary bodysuit has divided the world of swimming into the haves and the have nots just weeks before the Beijing Olympics, testing relationships between federations, athletes and rival suppliers.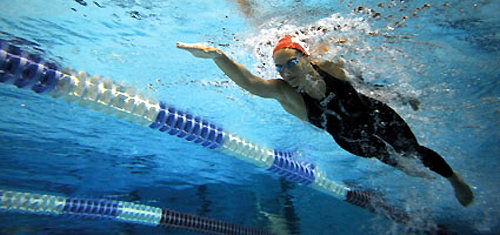 The french swimmer Laure Manaudou with Arena Powerskin R-évolution+
Australian and U.S. swimmers and others wearing the Speedo LZR Racer suit have set 38 world records since its introduction in February. Australian Libby Lenton said it made her feel she was swimming downhill.
As the buzz has grown -- an LZR is even on display at the Metropolitan Museum of Art in New York in an exhibit on superheroes -- swimmers using other equipment are weighing the merits of breaking existing contracts and switching to Speedo.
And rival manufacturers are rushing to upgrade their bodysuits to a level that will satisfy swimmers and federations desperate to win medals in Beijing in August.
Perhaps the highest-profile revolt was by Japan's Kosuke Kitajima, who won 100-metre and 200-metre gold in the breaststroke at the Athens Olympics in 2004.
His move forced the Japanese team to ditch its contract with Mizuno and two other suppliers and allow swimmers to race in LZR suits.
The Italian swimming federation, which has an agreement with Arena, said its athletes can break the contract if they are prepared to pay a fine.
And German swimmers are expecting Adidas to upgrade its suit in what former world record holder Britta Steffen called a technological race that "seems a bit like Formula One."
Introduced 15 years ago, bodysuits have drawn charges of unfair advantage ever since. In 2000, Australia's most famous swimmer, Ian Thorpe, demanded to wear an Adidas suit at the Sydney games, despite his federation having a contract with Speedo.
They range from full suits to torso and waist-to-knee suits, and have carried names like Acquablade, Fastskin, Sharkskin and Jetconcept.
The LZR suit, designed with help from U.S. space agency NASA, keeps swimmers in a corset-like grip which allows the swimmer to maintain the best body position in the water for longer and reduce drag.
Some reports have credited it with reducing swimming times by up to 2 percent, although Speedo officials said that is impossible to verify.
LAWSUITS
Speedo executives say they are puzzled but amused by the flap.
"The Speedo LZR Racer is not a miracle suit," said Speedo Vice President Craig Brommers. "It has set zero world records."
Nonetheless, Speedo was doing everything it can to "rule the pool" in Beijing, Brommers said.
Stu Isaac, a senior vice president with the Speedo division of Warnaco Group, which distributes almost half of Speedo gear globally, said Speedo was just doing what sports scientists are doing everywhere -- improving performance.
"We put as much effort into making the suit better as the swimmers are putting in in the pool," Isaac said.
In the United States, the swimming team allows athletes to sign their own marketing deals. But head coach Mark Shubert said swimmers who want to go to Beijing should wear Speedo at the U.S. trials, which start June 29, "or they may end up at home watching on NBC."
This provoked a lawsuit from TYR Sport Inc, the second-largest swimwear maker, accusing him of disparaging Speedo's competitors.
TYR has also filed suit against the Warnaco's Speedo unit, alleging violations of antitrust law, restraint of trade and false advertising. Warnaco, the North American licensee of Speedo from London-based Pentland Group, says the lawsuit is without merit.
This year, the Olympics will give huge exposure to a sport that is often out of the limelight. Gold medals can do wonders for a company's branding and share price and the reverse can also follow failure.
Even though few recreational swimmers can afford bodysuits costing up to $550 (280 pounds), the suits are a useful way to promote their technology and equipment in a global swimwear market estimated at about $13 billion.
Speedo has already enjoyed a boost in U.S. sales that executives credit to the halo created by the LZR.
Its U.S. market share in performance swimwear this year through June 14 was up 7 percentage points at 61 percent, while TYR has slipped 1 point to 21 percent and Nike has fallen 9 points to 11 percent, according to market research firm SportsOneSource.
The new Speedo likely will hit retail stores in October and company executives said it will be profitable, generating several millions of dollars in sales.
"I AM THE SWIMMER"
With just weeks before the games, controversy in the swimming world is at fever pitch.
Some say the advantages are as much psychological as physical. Others say it will just add to the Australian team's expected dominance in the women's events.
Kitajima underlined his demands to be allowed to wear the LZR by wearing a T-shirt with the slogan "I am the swimmer" and other swimmers are weighing their options with less fanfare.
Shares in Mizuno, which last year ended a licensing tie-up with Speedo after more than 40 years, fell 2.8 percent the day after Kitajima broke the 200-meter breaststroke world record after finally being allowed to wear an LZR suit this month.
Shares in Asics lost 3.6 percent. Mizuno, Asics and Descente, the suppliers approved by the Japanese federation, unveiled hastily designed suits in late May in an attempt to prevent defections by Japanese swimmers.
Shares in Goldwin, which makes and sells Speedo products in Japan, jumped 19 percent.
In Holland, triple Olympic gold medallist Pieter van den Hoogenband tried several suits during the Dutch championships.
Although the freestyle swimmer has a contract with Nike, the American company allows him to wear other brands if they help him go faster. He appears to be leaning towards the LZR.
Nike has allowed all of its contracted swimmers to try the LZR suit at the U.S. trials, but a spokesman declined to say whether that option would apply at the Games in Beijing. Nike is working with swimmers to "fine-tune" its own suit.
In Italy, where a disgruntled coach compared the LZR to "technological doping," the swimming federation said it could not force athletes to wear suits made by its sponsor, Arena.
"If Filippo Magnini ... wants to wear the Speedo suit in the final of the 100 meters of the Beijing Olympics, he is free to do so, but he'll have to pay a fine," a spokesman said.
World champion Magnini, one of Italy's best chances for Olympic gold, has said that with the LZR "mediocre swimmers suddenly become Martians." He appears likely to switch.
"Arena says it will give us a competitive costume, but the latest ones were not up to the job or broke," Magnini told La Stampa newspaper. "In a whole year Arena have not managed to make a fast enough costume -- how will they manage in a month?"
Diana, another Italian swimwear maker, also has designed a new suit -- the Submarine Shining Arrow -- in the three months since FINA, swimming's ruling body, ruled the LZR legal.
"We have already delivered the costume to the athletes and national teams -- Poland, Ukraine and Slovenia -- under contract with us and it should go on sale in July," Diana general export manager Francois Bertonazzi told Reuters.
"At the moment, (the new Speedo suit) has not created any problems for us in terms of sales," he added. "On the contrary, bookings for a our new suit are going very well."
Germany's swimming federation has stood firm in the face of demands from its athletes to break the contract with official supplier Adidas, which has developed a prototype suit.
Steffen, the German swimmer, said the new Adidas suit seemed to be competitive.
"That's given a great lift to the atmosphere on the team. Now everyone can concentrate on training again," she told Reuters. "Without the right amount of training the best suit in the world won't help at all."
(Reporting by Ben Klayman; Additional reporting by Robert Woodward in London, Erik Kirschbaum in Berlin, Paul Virgo in Rome, Harro ten Wolde in Amsterdam, Alastair Himmer in Tokyo, Julian Linden in Sydney and Julien Pretot in Paris; Editing by Eddie Evans)
© Thomson Reuters 2023 All rights reserved.