Spartoo forecasts revenue of 140 million euros in 2012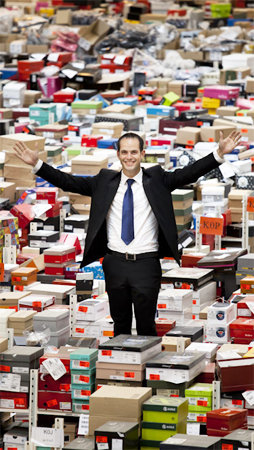 Spartoo's founder Boris Saragaglia
As it celebrates its 5th anniversary, the shoe retail site expects its revenue to top 100 million euros. Its founder Boris Saragaglia said that it should reach 140 million euros in 2012, despite the stiffening competition in the sector.
Spartoo's goal is clear: to be the European market leader. Currently present in around 20 countries and edited in 12 or so languages, the online retailer is entering a "stabilisation phase of its product offering". "I think that today we are the biggest seller of shoes in Europe", Boris Saragaglia prides himself. "We cover all of the market's demand in Europe. It remains to be seen how the market is going to evolve."
And the online shoe market has certainly been evolving a lot. German site Zalando arrived in France, French site Sarenza developed its international market, La Redoute launched Shoestyle at the end of 2010 just after Amazon launched Javari… But Spartoo has also been strengthening its product offering over the last 12 months. "The competition is really positive for the market, it forces us to improve our offer", said Boris Saragaglia, who believes Spartoo is in a strong position compared to competitors. The CEO emphasised that "Zalando had to widen the range of its products" and "Sarenza is still maily present in France."
With nearly 1.5 million pairs of shoes sold every year and 70,000 pairs in stock, the online retailer recently reported a 350% growth in international sales. This was thanks to its entry in 2011 into the Dutch, Finish, Polish, Swedish, Portuguese, Greek and Danish markets. Currently employing 140 people, the company expects to create 40 new posts through a combination its services. In the first quarter of 2011, Spartoo was ranked the 15th most visited e-commerce website by Fevad (French E-commerce and Distance Selling Trade Association), with 3.99 million unique monthly visitors.
Copyright © 2023 FashionNetwork.com All rights reserved.