Sotheby's to sell contents of Versace's lake villa
LONDON (Reuters) - Sotheby's will sell the contents of late Italian fashion designer Gianni Versace's weekend villa by Lake Como later this month, and expects to raise two to three million pounds ($2.8-4.1 million).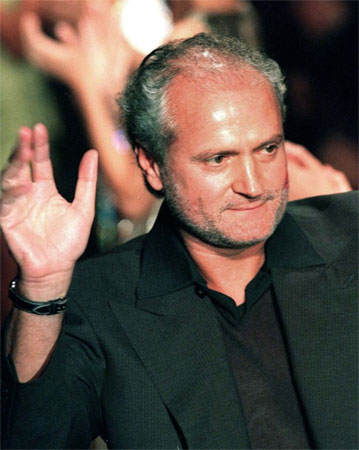 Gianni Versace AFP: Pierre Verdy
The 550 objects range in price from 100 to 100,000 pounds, and the auctioneer has recreated some of the rooms in the villa, which, according to reports, was sold to Russian millionaire Arkady Novikov last year for 26 million pounds.
"I have been trying to recreate as much as I could," said Mario Tavella, deputy chairman of Sotheby's Europe. "The bedroom of Gianni is almost as it was in the villa and the two dining rooms are recreated almost precisely," he told Reuters.
Versace, who was murdered outside his Miami home in 1997, used to entertain some of the world's most famous people at Villa Fontanelle, including Princess Diana, Elton John and Madonna.
"I have visited the villa. It was immaculately kept - a villa where the guests were really entertained in the most perfect way," Tavella said.
"Of course, Versace added some theater and drama here and there, but nothing was over the top. It was extremely stylish."
Among the highlights of the sale is a recently discovered painting by 18th century German artist Johann Zoffany called "Portrait of Major George Maule."
It is the only known portrait from a group of four paintings executed by the artist during a brief stay in Madras in 1783 and is expected to sell for 40-60,000 pounds.
"This was a painting not bought by Versace as a Zoffany," said Tavella.
"One of our experts discovered ... that it was one of four lost Zoffany paintings he painted in the early part of his career in India. They were recorded but no one had any idea where they were."
Sotheby's rival Christie's recently sold the art collection of late French designer Yves Saint Laurent for $475 million.
Sotheby's is exhibiting the Versace items on offer at its central London galleries on March 12, 13, and 15-17 ahead of the auction on March 18.
(Reporting by Mike Collett-White, editing by Paul Casciato)
(To read more about our entertainment news, visit our blog "Fan Fare" online at blogs.reuters.com/fanfare)
© Thomson Reuters 2022 All rights reserved.