Skechers sees sales plunge in 2011
By the looks of its latest financial report, it certainly seems like a long time since Skechers announced a record growth in sales of its Shape-up products in 2010. In fiscal 2011, ended last December 31st, the American shoe company saw a 20% decrease in net sales to 1.6 billion dollars. But the biggest hit in 2011 was the loss from operations of 134 million dollars: a 168% fall.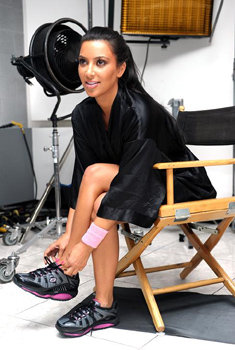 With a 20% decrease in net sales, it seems like the friendly face of American reality-TV star Kim Kardashian will not be enough to save the brand
"Fourth quarter 2011 net sales were down 37.7 percent, which is attributable to a difficult comparison against a record fourth quarter 2010 that included higher priced toning footwear, combined with lower than expected sales across many of our other Skechers footwear lines primarily in our domestic wholesale business," began David Weinberg, chief operating officer and chief financial officer. "Our international business was also impacted by the slowing of toning sales as well as economic difficulties in many markets.
But it is not all doom and gloom for the group. In 2012, Skechers plans to continue the expansion of Gorun, its first true performance footwear line. "We are continuing to expand in key international markets, including the recent transition of our business in Japan from a third-party distributor to a wholly-owned subsidiary," said the CEO Robert Greenberg.
Despite 2011 having been a challenging year with the shift in footwear trends, Skechers has taken steps to position itself well for the second half of 2012. The company has improved the management of its inventory levels, opened a new distribution centre (since November 2011) and has significantly reduced its expenses. "We believe the only planned spending increases this year will be for the opening of 18 to 20 company-owned stores and the launch of our subsidiary in Japan as we look to build this market to be our largest subsidiary," Mr. Weinberg added.
Copyright © 2023 FashionNetwork.com All rights reserved.