Signet to cut costs as Q4 sales fall sharply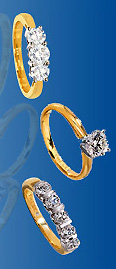 www.SignetJewelers.com
LONDON (Reuters) - Signet Jewelers (SIG.L) (SIG.N), the Anglo-American jewellery retailer, reported on Thursday a sharp fall in fourth-quarter underlying sales and said it would outline plans to cut costs and generate more cash in March.
The 1,959-store group, which owns Kay and Jared in the United States and Ernest Jones and H Samuel in the United Kingdom, said sales at stores open more than one year fell 14.9 percent in the 13 weeks to January 31, reflecting subdued sales of gold, diamonds and wristwatches.
Retailers in the United States and the UK are struggling as consumers cut back on spending amid soaring unemployment, sliding property prices and fears of a deep recession.
Same-store sales fell 16.1 percent in the United States and were down 9.2 percent in the UK.
Total fourth-quarter sales fell 18.9 percent to $1.124 billion (768.5 million pounds).
Despite the sales fall, Chief Executive Terry Burman said the U.S. business, where Signet makes over 70 percent of its turnover, outperformed the competition in a market that was highly promotional, and achieved "a significant increase" in gross margin.
"On both sides of the Atlantic, we are reducing costs and focusing on cash generation," he said, adding that Signet would give more details on these areas when it published its full-year results on March 25.
Signet forecast last month that pretax profit for the year to the end of January 2009 would be $180 million to $195 million. It said it would not be paying a dividend as it focused on reducing its debt, which was expected to be between $470 million and $490 million at the year end.
The company also said it was in talks with its lenders about amending a banking covenant.
London listed shares in Signet, which have lost 70 percent of their value over the last year, were up 8 pence, or 2 percent, at 417.75 pence, at 2:09 p.m., valuing the business at 375 million pounds.
The group moved its primary listing from London to New York and its domicile from the UK to Bermuda last year.
(Reporting by James Davey; editing by Rhys Jones and Karen Foster)
© Thomson Reuters 2022 All rights reserved.