Signet profit up; Harry Winston beats view
By Dhanya Skariachan
NEW YORK (Reuters) - Top jewelry retailer Signet Jewelers Ltd posted a higher quarterly profit on Thursday 4 June on cost cuts, while Canada's Harry Winston Diamond Corp posted a smaller-than-expected loss.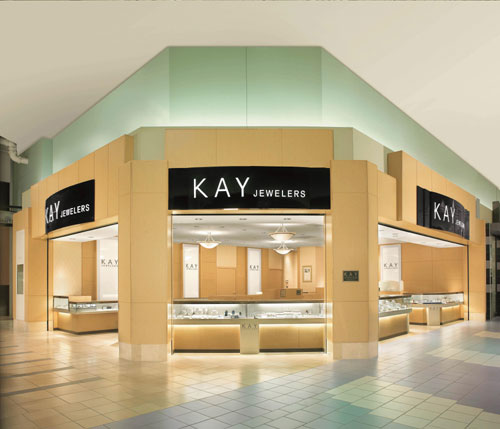 Kay Jewelers, a Signet Jewelers Ltd company
Signet, which runs Kay Jewelers and Jared The Galleria of Jewelry stores in the United States, and Ernest Jones and H Samuel in Britain, also gained market share in the quarter as many of its rivals shut stores or went bankrupt.
The jewelry retailer had announced plans to cut costs, delay new store openings and reduce its net debt by around $200 million this fiscal year to shore up its business.
Signet's marketing efforts and more exclusive merchandise are bolstering its market share, Terry Burman, Signet's group chief executive, told Reuters.
"We have got the size to have more marketing power than any of our competitors," Burman said. "Most of our rivals are having to make more draconian cuts out of necessity. He added that Signet's strong financials allows it to continue our advertising.
Signet's net profit rose to $26.3 million, or 31 cents a share, for the first quarter that ended May 2, from $25.7 million, or 30 cents a share, a year earlier. Its profit, however, missed Wall Street expectations by 2 cents.
Harry Winston reported a first-quarter net loss of $45.1 million, or 68 cents a share, compared with net earnings of $21.3 million, or 35 cents a share, a year earlier.
Excluding items, it posted a loss of 10 cents a share. This compares with analysts' forecast of a loss of 33 cents a share.
Sales at Signet dropped fell 7.3 percent to $762.6 million, while those at Harry Winston fell 30 percent to $109.6 million.
The results come days after high-end jeweler Tiffany & Co posted a 62 percent drop in quarterly profit and rival Zale Corp's loss widened as sales plunged 20.5 percent.
Jewelry sales have been hit in the recession as customers have been opening their wallets only for essentials. The dismal retail climate has even forced a few jewelers, such as Fortunoff, to seek bankruptcy protection or liquidate.
Signet's group same-store sales were down 2.9 percent for the quarter.
Signet shares were up about 2.8 percent at $19.93 on the New York Stock Exchange. Harry Winston shares were up about 1.8 percent at $6.69.
(Reporting by Dhanya Skariachan, editing by Maureen Bavdek and Derek Caney)
© Thomson Reuters 2023 All rights reserved.