Sears to invest in rewards program, stores
Sears Holdings Corp Chairman Edward Lampert laid out a blueprint for boosting results, calling for everything from investing millions of dollars in the retailer's "Shop Your Way" rewards program to improving the layout and signs in its stores.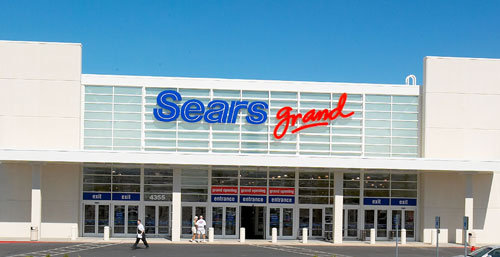 Sears Grand store / Photo: Sears
The plans, unveiled at Sears Holdings' annual meeting on Wednesday, come after years of criticism that the company has underinvested in its stores, resulting in lower sales every year since Lampert combined Sears with Kmart in 2005.
"We are not here to just survive. We are here to transform," Lampert, who is Sears' largest shareholder, said at the meeting at the company's headquarters in Hoffman Estates, Illinois.
Asked if its Lands' End brand was for sale, Lampert said he was not actively shopping for buyers, but there was always a possibility that the business "could be separated." The New York Post reported in March that Lampert was exploring the sale of Lands' End.
"We intend to evaluate other opportunities to separate parts of our portfolio into separately owned companies," Lampert said in a letter to shareholders in February.
Lampert and his funds together own roughly 62 percent of Sears Holdings.
Sears Chief Executive Lou D'Ambrosio and Lampert estimated that membership in Sears' "Shop Your Way" program had more than doubled over the past year to tens of millions of people. Reward points can be used across Sears' brands. For example, points earned from buying a Kenmore appliance can be used at Kmart or Lands' End. Members can also return items without a receipt.
"We are going to spend what we can afford to spend," Lampert said, adding that "Shop Your Way" was a significant investment. Sears did not say how much it has invested in the program.
"We live in a world that's rapidly changing," D'Ambrosio said. "You change or you die."
Chief Merchandising Officer Ron Boire said Sears was focusing on improving inventory management, having the right fashions and being more customer friendly.
Sears is working on indoor signs, store layout and placement of goods, making changes like putting Craftsman-branded apparel beside Craftsman tools. It has also given iPads to employees in many stores to do things like facilitate checkout.
Analysts at the meeting said they were impressed with the transformation plan, but concerned about how fast and effectively Sears would execute it.
Credit Suisse analyst Gary Balter said, "In terms of what they say, they are trying hard. The problem is they start with such a disadvantage."
The company still has a long way to go in terms of implementing the plan across all stores and increasing customer service, Morningstar analyst Paul Swinand said.
The annual shareholder meeting came a day after the retailer surprised some on Wall Street by issuing a better-than-expected outlook for earnings before interest, tax, depreciation and amortization for the quarter ended April 28.
Shares of Sears edged up 2 cents to $62.07 on Nasdaq.
LICENSING DEALS
Sears recently appointed Leveraged Marketing Corp of America as its exclusive global licensing agent to increase sales of Kenmore appliances, Craftsman tools and DieHard batteries outside its own stores.
D'Ambrosio and Lampert have often spoken about the potential for Sears to sell its brands elsewhere and keep their cachet, much as it has done by selling some Craftsman tools in Ace Hardware stores.
Sears has also been stepping up online efforts and taking its marquee brands like Craftsman to other retail outlets, such as Costco Wholesale Corp's warehouse clubs.
It has licensed its DieHard brand to flashlight and battery maker Dorcy International, allowing the Ohio-based company to sell rechargeable batteries and flashlights under that name to retailers in the United States, Puerto Rico and the Caribbean.
© Thomson Reuters 2023 All rights reserved.