Sears Holdings posts unexpected loss on markdowns
By Karen Jacobs
ATLANTA (Reuters) - Retailer Sears Holdings Corp reported an unexpected first-quarter loss on Thursday as sales fell at its Kmart and Sears stores and markdowns hurt margins, pushing its shares down more than 3 percent.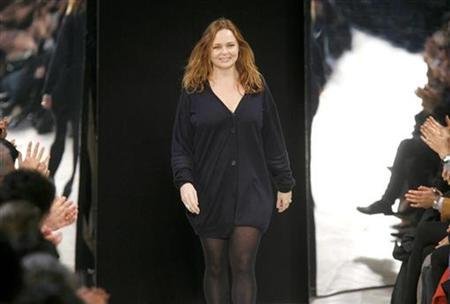 The department store chain said it does not expect "any significant near-term improvement" in the retail environment as the softer U.S. housing market and higher gasoline and food prices hurt consumer spending.
"Sears' brands are all mired in the economic slump," said investor Scott Rothbort, president and founder of LakeView Asset Management in Millburn, N.J.
The retailer controlled by hedge fund manager Edward Lampert reported a net loss of $56 million, or 43 cents a share, for the first quarter ended May 3 compared with a year-earlier profit of $223 million, or $1.45 a share.
Excluding a gain on asset sales, the loss in the current period came to 53 cents a share, the company said.
Analysts were expecting a profit of 15 cents a share, according to Reuters Estimates.
Revenue fell about 6 percent to $11.1 billion. Domestic sales at stores open at least a year fell 9.8 percent at Sears, Roebuck and 7.1 percent at Kmart, pulling total U.S. same-store sales down 8.6 percent. Sears noted declines in appliance, lawn and garden and apparel sales.
Gross margin contracted to 27.3 percent of sales from 28.2 percent a year earlier as the company marked down prices to move goods.
Sears Holdings faces intense competition with many chains, including Kohl's Corp in clothing and Wal-Mart Stores Inc in general merchandise. In appliances, Home Depot Inc and Lowe's Cos Inc have eaten away at Sears' dominant market share.
"At this point there really is no light at the end of the tunnel given the current macro environment," said Kim Picciola, a retail analyst with Morningstar. "It's going to continue to pressure players like Sears."
HIGHER EBITDA
Interim Chief Executive W. Bruce Johnson said in a statement that sales declines had "moderated somewhat" since early May and added that Sears currently expects full-year earnings before interest, taxes, depreciation and amortization to rise from the previous year. Sears had adjusted EBITDA of $2.55 billion for the year ended February 2.
The forecast for higher EBITDA puzzled some analysts. "The question is how do you get there, particularly in this very weak retail environment?" Picciola said. "Is there something else to come in terms of managing the cost line that we have yet to see?"
This year, the Hoffman Estates, Illinois-based retailer reorganized into five types of business units, such as brands and real estate, and has boosted spending in some areas.
For instance, selling and administrative costs rose 6 percent in the first quarter, reflecting increased marketing spend and added investment in online capabilities.
Lampert, Sears Holdings' chairman, gained favor years ago for making Kmart shareholders rich by selling real estate. In many quarters following the 2005 merger of Kmart and Sears, Roebuck, the new company posted hefty profit growth even as sales fell, partly because of cost cuts.
But Lampert has come under increased scrutiny in the past year as that earnings growth stalled and same-store sales continued to plummet. The loss for the first period capped three straight quarters of profit declines at Sears Holdings.
Sears' board approved the repurchase of up to an additional $500 million of its common shares. The move brings the company's current buyback authorization to about $643 million.
Sears Holdings shares were down $2.96, or 3.3 percent, to $86.40 in morning Nasdaq trading. The shares have risen 3 percent from a year low of $84.72 reached in January but are down 52 percent from a high of $183.25 in May 2007.
(Reporting by Karen Jacobs, editing by Mark Porter)
© Thomson Reuters 2022 All rights reserved.