Sarenza : directors mostly majority shareholders
Generally speaking, in the world of the internet, founders and corporate executives give up their capital interest in shares. At Sarenza, the opposite has taken place. Stephane Treppoz and Helen Supau, a little less than five years after taking over the footwear site's management, have just brought their joint stock ownership in the company up to 80%.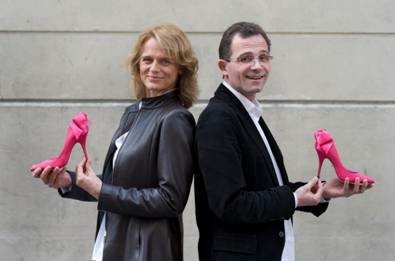 Hélène Supau and Stéphane Treppoz, the duo at the helm of Sarenza


For this purpose, they had purchased the shares from existing shareholders of Sarenza which were the venture capital firms IDInvest and Montisanbert. Three other shareholders also remain: Galileo and Amundi funds, and Rene Proglio, brother of the head of EDF. The fact is that nothing will happen to Sarenza share capital without the consent of its directors, according to the official statement. 
The two leaders' investment is funded by a personal debt of tens of millions of euros contracted with two banks, Credit Mutuel Arkéa Britain and West and Credit Agricole Brie Picardie. Proof, if ever there was, of the confidence that Helene Supau and Stephane Treppoz Sarenza have in the future. And it is true that the footwear site, which was born in 2005, is now a leader on the net with an annual turnover of more than 100 million euros.
"We are thinking in terms of the long-haul", said Stéphane Treppoz to FashionMag.com last October, "and we are not thinking in terms of external acquisitions or mergers." Similarly, the director stated that he did not plan to extend its product offering to things other than footwear and accessories and reaffirmed that the site's goal is "to create a leading pan-European e-commerce hub based in France." Sarenza already has a presence in the Benelux, England, Italy, Spain and Germany. The goal by the end of 2012 is to cover all of Europe, border to border, "not including" Russia.
Copyright © 2023 FashionNetwork.com All rights reserved.