Samsonite sets price range for $1.5 billion HK IPO
May 30 - Luggage maker Samsonite, backed by private equity firm CVC Capital Partners, moved closer to its $1.5 billion Hong Kong initial public offering, setting an indicative range for the deal on Monday as it bet on booming Asian demand for global consumer brands.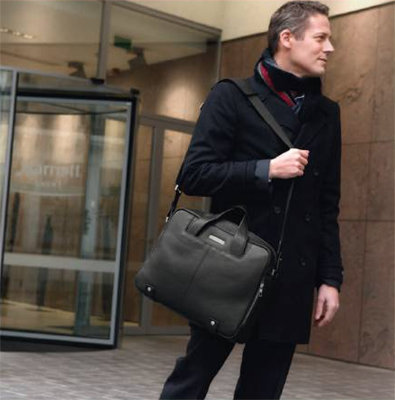 Samsonite business collection
Samsonite will join companies such as L'Occitane and luxury brands such as Prada SpA and Coach that have targeted Hong Kong to raise their profile among Asian consumers or tap deep-pocketed investors to fund expansion in the region.
China's steep growth has created a new class of consumers in major cities as well as in the countryside that have snapped up everything from luxury shoes to handbags and jewelry.
"Overall demand for any branded product has seen no slowdown," said Renee Tai, a consumer analyst at Samsung Securities in Hong Kong.
Luxembourg-based Samsonite will offer 671 million shares in the IPO, with an indicative price range of HK$13.5 to HK$17.5 each, a source with direct knowledge of the deal told Reuters.
About 82 percent of the shares in the IPO are existing shares, with 18 percent coming from a primary offering, said the source, who declined to be named because the details were not yet public.
NEW AD CAMPAIGN
Founded in 1910 in the United States by luggage salesman Jesse Shwayder, Samsonite has expanded to the four-corners of the world. Shwayder, a devout religious man, used $3,500 to start the company, naming his top products after Samson, the biblical figure with super strength.
The company has splashed Hong Kong with billboards for its new advertising campaign and last week packed a local shopping mall when pop icon Aaron Kwok attended the opening ceremony for one of its retail stores.
"The center of gravity of the wealth of the world is moving toward Asia. There are more and more Asians traveling, so it's natural for us to expect bigger growth," Ramesh Tainwala, Samsonite's president for Asia-Pacific and the Middle East, said at a press conference ahead of last week's store opening.
Samsonite, owned by CVC and Royal Bank of Scotland following a debt restructuring last year, gets nearly one-third of its revenue from Asia, with China, India and Korea among its top five markets together with the United States and Germany.
The company will start meetings with investors to gauge demand for the offering on Monday, with pricing slated for June 10 in Hong Kong. The stock will start trading on June 16 under the "1910" symbol.
Goldman Sachs Group Inc, HSBC Holdings Plc and Morgan Stanley are managing the offering.
By Elzio Barreto
(Editing by Jonathan Hopfner and Muralikumar Anantharaman)
© Thomson Reuters 2023 All rights reserved.