Saks Fifth Avenue may carry more Asian labels
May 23 - Saks Fifth Avenue, which currently carries Asian brands such as Junya Watanabe, Issey Miyake and Comme des Garcons, may be looking to carry more Asian labels at its stores, a senior executive at the luxury retailer said.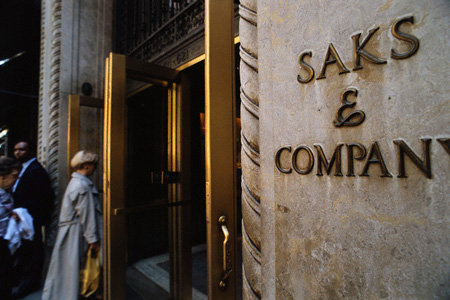 Woman entering Saks Fifth Avenue (Photo: Corbis)
"I'm very inspired by the new emerging Asian designers and would love to see more opportunities to bring them in," Eric Jennings, vice president and fashion director of men's wear, home, gift and goods at Saks Fifth Avenue, said as part of a Reuters Summit.
A unit of Saks Inc, the luxury specialty store sells brands such as Versace as well as its own branded apparel mainly in the United States.
Jennings said that more Asian designers are seeking to expand into the American and European luxury fashion markets, as Asian-inspired designs and brands gain in popularity in the West.
He added that price sensitivity remains a key issue for the U.S. luxury market as the economy recovers from a recession and this may hinder Asian designers keen to expand in the United States.
"We've come out of a terrible recession so there is price sensitivity and we have to look at that very closely."
The luxury market in the United States took a hit during the financial crisis, but it is now rebounding, helped by a recovery in consumer confidence and equity markets.
"With the American consumer, if they're not familiar with the brand they are less willing to spend a lot of money for that brand, so it's tough bringing in the new Asian lines when the retail price is so high."
"It's a different world right now in America," said Jennings, who was in Singapore last week to attend the Asian Fashion Summit.
Saks, which closed six Saks Fifth Avenue stores in the 2010 fiscal year, said it could open more of its upscale department stores in the Unites States as luxury shoppers have started to spend more.
Besides the United States, Saks Fifth Avenue also operates stores in Mexico City and the Middle East. It does not have plans to expand into Asia currently, Jennings said.
© Thomson Reuters 2023 All rights reserved.