Sainsbury stokes fears of consumer downturn
Mar 23 - Grocer J Sainsbury missed fourth-quarter sales forecasts, stoking fears of a downturn in consumer spending and increasing pressure on the government as it presents its budget on Wednesday.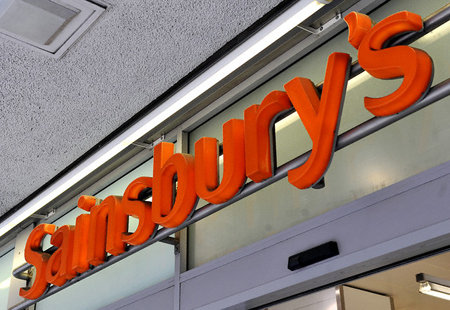 Sainsbury's
The No.3 supermarket group behind Wal-Mart's Asda and market leader Tesco urged Chancellor George Osborne to offer shoppers help with soaring petrol prices, but conceded customers were unlikely to change spending habits any time soon amid rising inflation and job insecurity.
"Their outlook view is as downbeat as it is ever been," chief executive Justin King told reporters.
A procession of retailers have said trading conditions have got worse since Christmas, adding to fears the government's fiscal squeeze aimed at slashing its deficit is too much, too soon, for a country emerging from a deep recession.
Sainsbury said sales at stores open over a year rose 1 percent, excluding fuel but including VAT sales tax, in the 10 weeks to March 19. That was a slowdown from 3.6 percent growth in the previous quarter and below a forecast for 2.4 percent.
At 9:55 a.m., its shares were down 5.3 percent at 335.6 pence, the biggest faller among European blue-chip stocks and weighing on other retailers.
"Sainsbury has done more to confirm the magnitude of the deceleration in consumer activity in the UK today than any other recent update," said Shore Capital analyst Clive Black, who planned to cut his 2011/12 profit forecast for the company to around 710 million pounds ($1.2 billion) from 739 million.
"Expect our red pen to be coming out elsewhere too and not just for the food retailers, he said.
SPENDING HABITS
Sainsbury has been growing sales faster than most rivals for several quarters, helped by strength in the more affluent south of England as well as an expansion into online and convenience shopping and non-food ranges like clothing.
The group said its fourth-quarter performance was ahead of the broader grocery market, with non-food sales growing at three times the rate of food and online sales up 20 percent.
Total sales, including fuel and new selling space, were up 6.8 percent.
King said petrol prices were up 16 percent on the year, costing an average customer an extra 10 pounds a week.
Shoppers were coping with the pressure on their budgets by cooking more meals from scratch, snapping up over 3 million Sainsbury's meal planner tip cards that advise how to cook five family meals for 20 pounds, he said.
They are also collecting more loyalty points, with over 800,000 more Sainsbury customers participating in its Nectar scheme than last year.
King said he remained comfortable with analysts' average 2010-11 profit forecast of about 660 million pounds.
He would not comment on a report that 26 percent shareholder Qatar Holding was keen for Sainsbury to pursue a merger with clothing and food retailer Marks & Spencer.
Qatar Holding, which built up its stake during a failed bid attempt in 2007, also declined to comment. A person familiar with the matter played down the significance of the report.

(Editing by James Davey and Dan Lalor)
© Thomson Reuters 2022 All rights reserved.