Sainsbury's says to keep nerve as others discount
LONDON - J Sainsbury will not join a wave of discounting sweeping Britain's retail sector, believing shoppers will splash out on Christmas despite a gloomy economic backdrop, its commercial director said on Monday.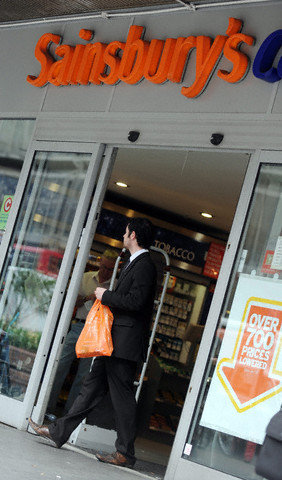 Photo: Corbis
Mike Coupe was speaking as Britain's third-biggest supermarket group unveiled its biggest ever Christmas range, including around 500 groceries and 700 non-food items.
"The evidence would suggest that when there is a family occasion, when there's a moment in time that people are bought into, whether that's the royal wedding, whether it's Hallowe'en or whether its Bonfire Night, they will spend and they will invest in a great family occasion," he said on a store tour in northeast London.
Many British retailers are struggling as shoppers' disposable incomes are squeezed by rising prices, muted wages growth and austerity measures, and as they worry about falling house prices, job security and a fragile economic recovery.
On Monday, fashion retailer Jacques Vert became the latest in a string of store groups to issue a profit warning, while a survey showed British retail sales fell at their fastest pace in 2-1/2 years in November.
Several chains have already started cutting prices in a bid to lure shoppers.
However, Coupe said Sainsbury's would not follow suit.
"You're far better holding your nerve and sticking to what you have planned," he said, adding a trend towards last-minute spending was likely to be exacerbated this year due to Christmas Day falling on a Sunday.
Coupe has high hopes for Sainsbury's relaunched own-brand food range, including lower fat mince pies, flavoured nuts and chocolate panettone.
He is also optimistic about the group's expansion into non-food ranges, saying market share gains in categories like lingerie, partywear, gaming and gift cards were helping to offset weak consumer spending.
Sainsbury's, which trails Wal-Mart's Asda and industry leader Tesco by annual sales, currently has 93 stores with non-food sales areas of over 10,000 square feet, up 26 on last year.
It makes around 2 billion pounds of sales, or almost 10 percent of its annual turnover, in the four weeks up to and including Christmas.

(Reporting by Mark Potter; Editing by Helen Massy-Beresford)
© Thomson Reuters 2022 All rights reserved.