Safilo talks fall through, board seeks new solution
MILAN (Reuters) - Debt-laden Italian eyewear maker Safilo (SFLG.MI), which has been seeking to strengthen its balance sheet, postponed release of its first-half results on Monday 27 July after talks with private equity groups fell through.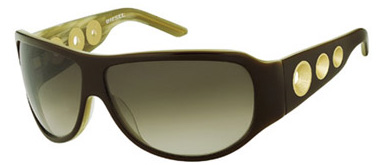 Safilo - Diesel eyewear
The maker of Gucci and Dior eyewear, which has net debt of more than 600 million euros ($856 million) and has been seeking potential new investors, said its board will now meet on August 4 to consider its next move.
Its shares closed down 6.27 percent at 0.426 euro before the statement came out.
"(The board) ... has acknowledged that negotiations with leading international private equity funds aimed at a recapitalization of Safilo Group have been terminated as the interested parties have formally withdrawn from negotiations without presenting any offers," it said.
Its board will meet next week "to evaluate in detail the current situation and identify potential actions to be put in place to guarantee a sustainable capital structure going forward," Safilo added.
Bain Capital remained the last contender in a race for a stake in Safilo after Pai Partners pulled out, a source close to the matter said this month.
Two sources with knowledge of the situation said Bain pulled out as it wanted, among the conditions to a deal, an early renewal of Safilo's licenses with Gucci, Dior and Armani.
"Armani was the only one opposed to an early renewal of the license, albeit confirming its readiness to discuss with the new owner at the right time," one of the sources said.
Safilo renewed the Gucci license in November. Its Dior license expires at end-2010 and the one with Armani expires in 2013.
Sources close to the matter have previously said Chairman Vittorio Tabacchi's family preferred a private equity option, while creditor banks pushed for an industrial partner.
The Tabacchi family has a nearly 40 percent stake which it has said it could dilute.
Rivals Marcolin (MCL.MI) and Luxottica (LUX.MI) have been mentioned as potential partners in the past. A source close to Marcolin has said Safilo was not discussed at its June board meeting and analysts have deemed a deal unlikely and prefer bigger competitor Luxottica.
But its CEO has said before it was not interested in Safilo.
"The situation is more complex than previously thought. The private equity solution is gone. The only solution still open is that of an industrial partner," an analyst, who declined to be named, said. "Luxottica (could buy Safilo) or Luxottica and Marcolin could divide its assets."
Investment company Berggruen Holdings has said it had been invited to make an offer but was being denied the ability to carry out due diligence.
A source close to Berggruen said on Monday 27 July it was still interested in Safilo but that it wanted "access to information."
Berggruen is the biggest shareholder in eyewear group FGX International (FGXI.O), which says it is the global leader in sunglasses costing under $30.
"(FGX's) business is very diverse. It is more mass market. It would be the last option for Safilo," the analyst said.
Safilo, which has also seen the crisis hit demand, got a breather when banks agreed to delay to December 31 payment of a finance installment due in June. It also won a waiver on financial covenants linked to the financing arrangement.
($1=.7011 euros)
(Reporting by Marie-Louise Gumuchian and Cristina Carlevaro; Editing by Greg Mahlich, Phil Berlowitz)
© Thomson Reuters 2023 All rights reserved.