Roberto Cavalli line for dogs
Good news for people who love the flora and fauna inspired prints of Roberto Cavalli if they have a four-legged friend; the brand is releasing a selection for dogs including: jumpers, velour jackets and printed t-shirts. This collection – only available in official boutiques – will allow these trusty animals to reaffirm their position as man's best friend.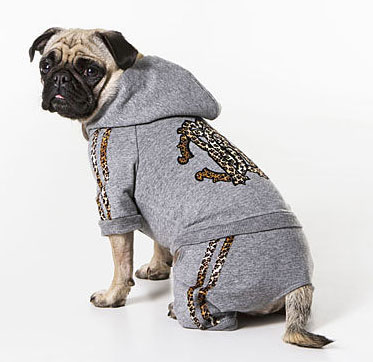 Roberto Cavalli collection for dogs
The idea of this one-off collection where luxury meets exuberance could have been suggested to the designer by his wife, Eva Cavalli. "Roberto and I have always loved animals. Our house is full of them. Therefore, it was natural to put some of our style into the canine world," she revealed to W Magazine.
Also, if Paris Hilton and the like continue to buy their little doggies all the new fashion accessories available, thanks to this line by Roberto Cavalli – priced between $110 - $1200 – these pooches will once again be proclaimed " fashion victims" across the world.

By Jonathan Fulwell (Source: Sarah Ahssen)
Copyright © 2023 FashionNetwork.com All rights reserved.