Ralph Lauren sits down with Oprah for rare television interview on May 18th
With only eight episodes of the Farewell Season left, "The Oprah Winfrey Show" welcomes American fashion designer Ralph Lauren for his first sit-down interview in almost 20 years.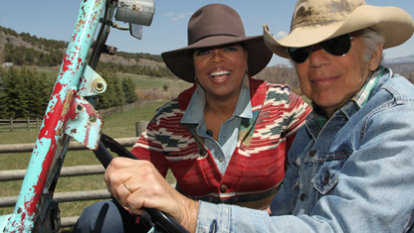 For the first time, designer Ralph Lauren allows cameras inside for a look at his family's Rocky Mountain retreat.
Airing on Wednesday, May 18th, Oprah makes a special visit to the RRL Ranch, Ralph Lauren's home outside Telluride, Colorado, for an exclusive interview providing a rare look into how Lauren has become an American icon and how he and his family live and spend their time together. This is the first time TV cameras have been allowed inside the Lauren home.
From riding around the RRL Ranch in Lauren's vintage 1948 jeep, and a private tour of the property that includes tepees furnished with antiques and whimsical artifacts, the hour is sure to make television viewers feel as though they have stepped inside a Ralph Lauren advertisement with the breathtaking views of the mountains of Telluride as the backdrop.
This episode also brings viewers an intimate interview with Lauren who has not given a television interview in almost 20 years. He talks with Winfrey about his first foray into the fashion business - and what his proudest accomplishments are - to what is next for the family man who is credited with changing the world of American fashion for more than four decades.
Oprah also sits down with Lauren's wife Ricky, and the couple's three children Andrew, David and Dylan.
Marina Felippe
Copyright © 2023 FashionNetwork.com All rights reserved.