Ralph Lauren reviewing position in China
Ralph Lauren is reviewing its strategy for China. "We are in the midst of transforming our presence in Greater China", said Chairman and Chief Operating Officer of the group, Roger Farah, at a press conference held for its results. Ralph Lauren's operations in China bring in less than its operations in Japan, which currently generates more than half of the group's Asian sales. In the twelve months prior to 31st March 2012, the American group closed down 95 points of sale, which according to its chairman represents 60% of its local network. "We effectively reset our presence in the market, leaving us with what we believe is a more brand appropriate and a stronger foundation for growth", explained Roger Farah.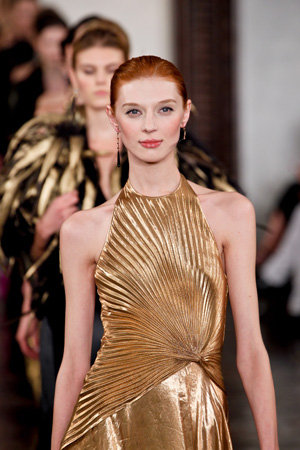 Ralph Lauren autumn-winter 2012-2013 / Photo: PixelFormula
Next step is 15 store openings in China in 2013 in Beijing, Shanghai and Hong Kong, "adjacent to the world's leading luxury brands", explained Farah. "Over the next 3 years, we expect to open approximately 60 new stores in Greater China and Hong Kong". The group's aim is to appeal to the Chinese market in its own country but also throughout the world and more particularly in Europe. This could potentially increase global sales of the group's brands. The group says that it is confident in the long term for Europe but has shown itself to be prudent regarding its forecasts for 2013, expecting revenue increase to be "in the single digits".
Copyright © 2023 FashionNetwork.com All rights reserved.