Ralph Lauren auctions his world -- for cancer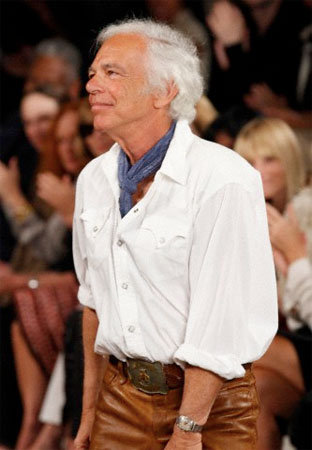 Ralph Lauren. Photo : Corbis
(Reuters Life!) - Ever wonder what it's like to live in Ralph Lauren's world -- the fabulous fashion, sexy models, polo ponies and rugged American ranches? Well, now you can buy it in an online auction for charity.
The famous designer is opening his world of high fashion and Hollywood stars to top bidders in the sale starting on Friday, marking the 10th anniversary of his Pink Pony global initiative that raises money and awareness for fighting cancer.
People can bid on a front row seat at Lauren's Fall 2011 fashion show and meet the smiling, silver-haired designer backstage. They can buy a personal drive in one of his classic cars, spend three nights at his RRL ranch in Colorado, or appear in one of his advertisements.
Other items among hundreds for sale include gifts from Lauren's celebrity pals: a chance to meet comedian Jerry Seinfeld, two tickets to a Miami Heat basketball game and a handshake with star player Lebron James, or a chance to ride bikes with Tour de France winner Lance Armstrong.
"This is an opportunity to step into the world of Ralph Lauren," said David Lauren, his son and a company executive.
"The Internet has become the fastest and most efficient way for us to communicate, and we felt if we could combine the Ralph Lauren brand and access to interesting celebrities and items, then we could really do something special, with a global reach," Lauren told Reuters.
He said his father had been working to fight cancer for more than 25 years since his friend, Washington Post fashion editor Nina Hyde, first told him she had breast cancer. Hyde died in 1990.
Ralph Lauren began using some of his fortune to promote cancer research, and he funded the Ralph Lauren Center for Cancer Care and Prevention in New York. A pink pony often appears on various Lauren-branded apparel and other products, and it has become a symbol of his efforts to fight cancer.
David Lauren said auction organizers hope to raise around $1 million, and that if he had a chance to bid, he might buy a spot in an ad, or perhaps the bike ride with Armstrong.
"We hope people will look at this not only as an opportunity to own something cool, but also as an opportunity to make a contribution," he said.
The auction begins October 1 and runs through October 21. More information can be found at www.charitybuzz.com/RalphLauren.
(Editing by Steve Addison)
© Thomson Reuters 2021 All rights reserved.