Quiksilver up on report of possible PPR interest
Dec 9 - Quiksilver shares closed up nearly 23 percent to a near 6-month high in heavy volume on Thursday after a report that French luxury and retail group PPR SA could be interested in the apparel retailer.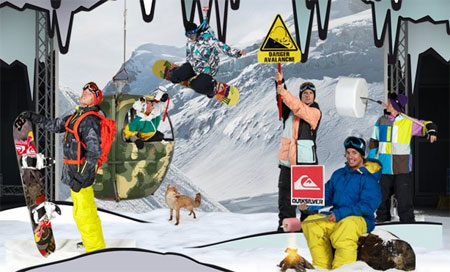 Quiksilver
French newspaper La Tribune reported the owner of the Gucci, Yves Saint Laurent, Puma and Bottega Veneta brands is looking to buy a sports brand and could be attracted by the Huntington Beach, California-based seller of adventure sports apparel.
More than 1.4 million Quiksilver shares changed hands in early trading -- nearly 5 times their normal daily volume.
"Stock volume is much higher than normal, which is in line with what normally happens if a stock is rumored to be a takeover candidate," said Steve Claussen, chief investment strategist at Chicago-based online brokerage OptionsHouse LLC.
A Quiksilver spokesperson told Reuters the company does not comment on market rumor or speculation. The company told the New York Stock Exchange when it contacted the company, as is normal practice, the exchange said in an email.
Quiksilver closed at $5.68, up $1.05, or 22.7 percent, on the New York Stock Exchange, where it was the second highest percent gainer.
In a note, JPMorgan Cazenove analysts said a PPR sale of its Conforama furniture unit, would switch focus to possible buys by the French group.
"Following this disposal, potential acquisitions are in the limelight. Burberry is "too big a fish" for PPR in our view ... We think Quiksilver could be of interest to PPR as a market leader in the lifestyle space focused on surfing, skateboarding and snowboarding," they wrote.
Quiksilver has seen demand in Europe and the Americas -- its two key markets -- weaken recently and some analysts think it needs to revamp to get growing in the domestic market.
"I think the company needs aggressive change," said Brian Sozzi, an analyst with Wall Street Strategies, noting Quiksilver's recent private placement. "It would be a good idea to remove itself from the public markets."
OPTIONS TRADE
There was also heavy early action in Quiksilver's call options as almost 2,700 contracts changed hands against 448 puts, according to options analytics firm Trade Alert.
Overall option volume was 15.5 times greater than average daily levels. Quiksilver, valued at about $760 million, is typically a thinly traded option name, averaging 152 calls and 47 puts per day.
Directional sentiment based on option order flow was 56 percent bullish, Trade Alert data showed. Investors often turn to equity call options, which grant them the right to buy shares at a fixed price any time until expiration, to speculate on potential share price gains.
"The stock has moved up early and there is a buying of the December and January call options after a French newspaper mentioned that an investor might be interested in acquiring the company," said Frederic Ruffy, options strategist at New York-based Web information site WhatsTrading.com.

By Nivedita Bhattacharjee and Doris Frankel
(Reporting by Nivedita Bhattacharjee in Bangalore and Doris Frankel in Chicago; additional reporting by Ilaina Jonas in New York; editing by Gopakumar Warrier and Ian Geoghegan)
© Thomson Reuters 2023 All rights reserved.