Puma to cut sponsor deals, products as battles slump
German sportswear maker Puma said it would cut the number of products it offers and end expensive sponsorship deals as it struggles to offset a slump in its sales in Europe and catch up to rivals in the United States and China.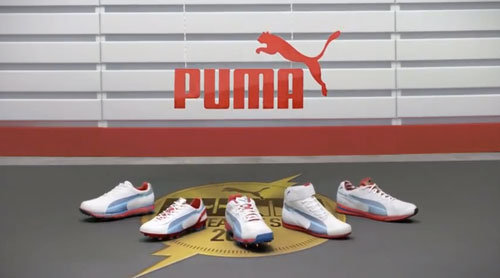 Photo: Puma
Puma, a distant third in terms of sports apparel sales behind Nike and Adidas, has been struggling to find its feet after focusing too heavily on fashion and last week warned on 2012 profit after its main European customers held back on spending.
Puma's poster boy is Jamaican sprinter Usain Bolt, who is under contract until the end of 2013. When the sponsorship deal was renewed in 2010, Puma described it as the biggest sponsorship deal in athletics by far.
It said on Thursday that sales in Europe - which account for just under half of its business - dropped 3 percent, while sales in its biggest product category, footwear, were flat.
"Management expects Puma's sales in the upcoming two quarters to grow, albeit at a reduced pace due to the increasingly difficult macro-economic environment and high levels of inventory in the markets," it said in a statement.
Along with efforts to cut costs, products and endorsement contracts, which will cost it up to 100 million euros, Puma also said Chief Operating Officer Klaus Bauer and Chief Marketing Officer Antonio Bertone would leave the company at the end of the year.
Bertone was brought into the company as a 22 year-old skateboard fanatic in the early 1990s as a freelance consultant by previous CEO Jochen Zeitz, to help shape what was Puma's then new Lifestyle division.
While the focus on fashion helped Puma out of its troubles in the 1990s, it has struggled to keep pace with Nike and Adidas in terms of high-tech performance products, something Chief Executive Franz Koch is now trying to change.
Puma on Thursday reported second-quarter sales of 752.9 million euros ($912.8 million) and a 29-percent drop in net earnings to 26.7 million. That follows a decline of 5 percent in net earnings in the first quarter.
Shares in Puma, which is 80 percent controlled by French luxury goods group PPR, were indicated down 1.2 percent.
© Thomson Reuters 2023 All rights reserved.