Puma plays catch-up in U.S. as Q3 meets targets
FRANKFURT | Tue Oct 25, 2011 - German sporting goods maker Puma (PUMG.DE) said it had more work to do to attract customers in the United States after sales there fell in the third quarter.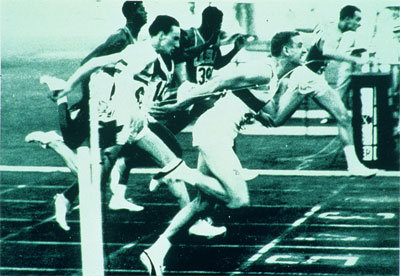 Puma sponsored Armin Hary's team in 1960 for the Olympic Games in Rome / Photo DR
"The North American market is more arduous than we had expected," finance manager Michael Laemmermann said after the group affirmed 2011 targets for 3 billion euros ($4.2 billion) in sales and a mid single digit percentage rise in net earnings.
Sales in North America fell by a single-digit amount, Chief Executive Franz Koch told journalists on Tuesday, adding a strong third quarter last year made for a tough comparison.
After rising initially, shares in the group, controlled by French luxury goods group PPR (PRTP.PA), turned negative and were down 2.5 percent at 229.85 euros at 1002 GMT (6:02 a.m. EDT).
Analyst Robert Greil at Merck Finck told Reuters he was surprised by the relatively weak performance in the United States. "The U.S. is a key market for Puma and it begs the question as to where the weakness is coming from."
Larger German rival and worldwide No.2 sportswear maker Adidas (ADSGn.DE) has said it is experiencing strong demand in the United States.
Koch, who took over from long-term boss Jochen Zeitz in July, said Puma was losing out to rivals in fast-growing categories such as lightweight running shoes, which are surging in popularity in the United States.
Puma, which is currently trying to make a clearer distinction between its performance and fashion ranges, offers the Faas running shoe in the lightweight market, competing with Nike's Free (NKE.N) and Adidas' Adizero ranges.
"What's fair to say is that our product proposition on the performance side is not resonating as well as rivals' products so we have to focus on that," Koch told journalists.
He said the lightweight range was doing well in China and Latin America, the regions that contributed most to overall sales growth of 10 percent in the quarter.
An 18.5 percent increase in inventories also concerned some analysts. Koch had said earlier this month that the group would prepare for next year, for which economists forecast slower global growth, by reducing stock levels.
Koch declined to provide an outlook for 2012.
For the three months to end-Sept, Puma reported sales of 841.6 million euros and net profit of 81.7 million, compared with the average forecast of 848 million and 79.6 million in a Reuters poll.
Gucci owner PPR, which owns just over 75 percent of Puma and is keen to expand its sports lifestyle offering around the brand, is due to report quarterly results on Wednesday.
($1=0.720 Euros)
(Reporting by Victoria Bryan; Editing by Jon Loades-Carter)
© Thomson Reuters 2023 All rights reserved.