Puma CEO eyes soccer over Bolt in 2012 sales race
LONDON - German sportswear company Puma is banking more on soccer than Usain Bolt to help it to weather the European economic storms in a bumper summer of sport, CEO Franz Koch said on Thursday.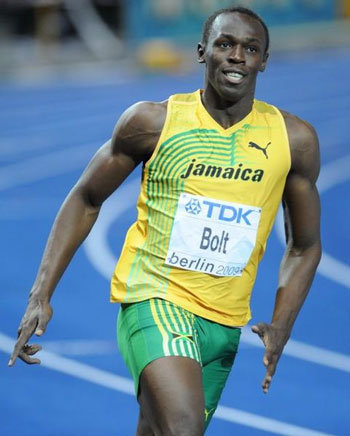 Usain Bolt runs in Puma / Photo: Erik van Leeuwen
Puma, the world's number three sports apparel firm, has made a sluggish start to the year and is exposed to the fallout from the euro zone debt crisis in its largest region.
Its rival Adidas has an exclusive marketing deal for the London Olympics, which limits Puma's ability to gain from its sponsorship of athletes like Jamaican triple gold medalist Bolt.
However, 33-year-old Koch believes that the Olympics and the Euro 2012 soccer tournament in particular will lift the gloom after a first quarter in which European sales fell 2 percent.
"We need to continue to weather the storms in Europe," former professional field hockey player Koch told Reuters in an interview in London.
"We are positive about the sports events we have in the pipeline, about the product innovation we are launching and that's why we still believe that 2012 can be a successful year for Puma," he added.
Koch said the soccer championships, where the Italian and Czech teams will sport shirts with the Puma cat logo, could provide more of a short-term boost for sales than the Olympics, although the latter was an ideal platform for building the brand.
"In terms of commercial opportunities, the Euro cup might be a bigger opportunity for us," he said, confirming a forecast for Puma's soccer sales to rise by over 10 percent.
"You sell a lot of replica kits and fanware related to the teams and individual players. Therefore from a commercial perspective, the Euro cup is probably more interesting," he added.
Puma would not disclose how much it made in soccer sales in 2011 out of its total turnover of 3 billion euros ($3.7 bln).
Adidas, the world market leader in soccer, which is kitting out 6 of the 16 teams in the Euro tournament, is expecting record soccer sales of over 1.5 billion euros this year.
Neither Puma nor Adidas would comment on Thursday on whether they would be interested in buying Umbro, the soccer brand just put up for sale by owner Nike.
Puma was founded in 1948 when Rudolf Dassler fell out with brother Adolf and set up a firm to rival Adolf's Adidas .
The rivalry continues to this day, with both companies based in the southern German town of Herzogenaurach. Adidas is a close second and Puma a distant third in global sportswear terms behind U.S. company Nike.
Koch, sporting a pair of white retro Puma sneakers, stressed that Puma was determined to maintain its position in the face of the emergence of smaller suppliers, such as Under Armour and Li Ning.
"We are the clear number three. We want to remain the clear number three," he said.
The group is aiming for sales of 4 billion euros ($5 billion) by 2015, compared with $28-$30 billion for Nike and around $21.4 billion for Adidas by the same date.
"It's never been our objective to be the biggest but the ultimate objective is to be the most desirable and sustainable sport lifestyle company in the world. That is our mission," Koch said.
MARLEY & ME
Despite Adidas's exclusive Olympics sponsorship, Puma's prospects are boosted by its backing of several national teams, including the Jamaicans and their worldwide star Bolt. The team will wear Puma kit designed by Cedella Marley, daughter of late reggae star Bob Marley.
"The Marley family and Usain Bolt are probably the biggest assets you can have when you talk about Jamaica. It's not only us, it's also the Jamaicans who are really proud of this partnership," said Koch.
The Jamaican running vest carries the images of Arthur Wint and Herb McKenley, gold and silver medallists in the 400 metres in London in 1948 when Jamaica first competed at the Games.
Even those images have to be blurred though to fit with the tough International Olympic Committee rules, which also mean Puma cannot explicitly market Bolt during the Games.
"We are focusing our efforts on building up momentum towards the Olympics," Koch said. "It's all about the athlete himself during the Olympics. We will be able to push some more active marketing in the aftermath of the Olympics."
© Thomson Reuters 2023 All rights reserved.