Pringle of Scotland and Artistic Director Alistair Carr part ways
After just two seasons Pringle of Scotland's Artistic Director, Alistair Carr, is on the way out, the Scottish label announced this Thursday, 26th April. It is thought that the decision was mutual, and accompanied by a decision to suspend any runway shows in order to "concentrate on the collections themselves". The almost 200 year old fashion house added that it will still be participating in the London fashion weeks with presentations.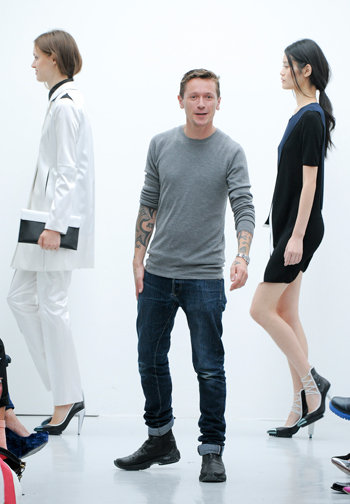 Alistair Carr during the finale of the Pringle of Scotland spring-summer 2012 show
There will be no new Artistic Director for the time being, with the press release announcing that the design team will be in charge of the new spring-summer 2013 collection – another possible way of keeping expenditure down for the brand which continued to register losses into 2011, calling for its Hong-Kong based owner SC Fang & Sons to keep a tight hold of the purse strings, which it has been doing since the acquisition of the brand in 2000.
CEO Jean Fang has however thanked Alistair Carr for his "modern approach on re-interpreting the Pringle of Scotland heritage". He will leave the brand on the 1st July and in the meantime will design the autumn-winter 2012/2013 collection.
In spite of significant investment, the Scottish label does not intend to move away from its position as a luxury knitwear brand that it has been cultivating for several seasons in its attempt to revive the brand. It is also continuing with its plans of renovating its concept-store which will take shape as of September, with the opening of a new concession in Harvey Nichols in London.
Copyright © 2023 FashionNetwork.com All rights reserved.