Primark to investigate supplier conditions claims
LONDON (Reuters) - Discount fashion stores chain Primark said on Sunday it has launched an investigation over allegations one of its suppliers may have breached employment and immigration laws.
The retailer, owned by Associated British Foods, was responding to a report in The Observer which said an undercover investigation carried out by the newspaper and the BBC found that Manchester-based garment firm TNS Knitwear may have acted illegally.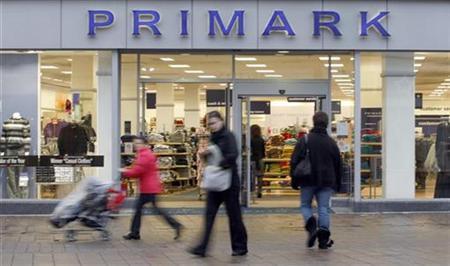 The allegations centred on Pakistani, Afghan and Indian illegal immigrants being paid 3 pounds an hour - just over half the minimum wage of 5.73 pounds - for 12-hour days, seven days a week.
"Primark was informed this week that one of the UK factories from which it buys some knitwear has allegedly broken a number of UK employment, tax and immigration laws. Primark is conducting its own investigation into this," said a spokesman for the firm.
"Once that investigation is complete it will decide how to proceed. Meanwhile, Primark has handed all relevant information passed to the company over to the relevant enforcement agencies so they may take action," he added.
(Reporting by James Davey)
© Thomson Reuters 2023 All rights reserved.