Primark's UK slowdown hits AB Foods
Feb 28 - A slowdown at discount fashion retailer Primark's British stores hit the shares of owner Associated British Foods Plc as tax rises and inflation squeezed consumer spending in the first two months of this year.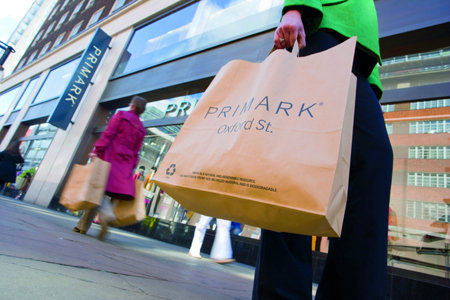 Woman carrying a Primark shopping bag on Oxford Street, London (image by PRshots.com)
Primark's closely-watched like-for-like sales growth slowed to 3 percent in its first half from a 4 percent estimated first quarter growth with analysts saying comparable sales growth in January and February had slipped to around 2 percent.
"The UK consumer is feeling a squeeze because of inflation and the VAT rise and simply has less to spend," AB Foods Finance Director John Bason said in an interview after a trading update.
He added that there was a "noticeable slowing down in UK consumer demand" since the New Year as he blamed commodity price inflation, especially higher petrol prices, and the rise in UK Value Added Tax to 20 percent from 17.5 percent previously.
Primark has over 150 of its 214 stores in the UK and the rapid growth of the retailer, which earns around a third of group profit, has been a major driver of the recent performance of the company which also makes Silver Spoon sugar and Twinings tea.
Bason warned Primark's operating margins would be lower in its first half and stay under pressure in its second half due to a near doubling of cotton prices and the VAT rise as it aimed to stay competitive and not pass on all the cost rises to shoppers.
The group also warned of lower annual UK sugar profits after severe winter weather increased processing costs and reduced the size of the sugar beet crop in the UK.
Analysts highlighted spiralling input costs and a weaker consumer environment as AB Foods shares sank 4.1 percent to 985 pence by 0925 GMT to be the FTSE 100's biggest loser after underperforming the index by 15 percent this year.
"The statement is slightly disappointing in particular the slowdown at Primark, which is a major driver of sentiment," said analyst Sara Welford at brokers Citi.
AB Foods was giving an update for its half year to March 5 and ahead of its full interim results on April 27 when it still expects adjusted operating profits to show growth with most divisions include Primark and sugar seeing increases.
Half-year sugar profits will be higher, driven by rises in Spain and China helping to offset a fall in majority-owned Illovo and flat UK profit, but higher processing costs will hit UK profits by 20 million pounds for the full year.
The group said a sudden thaw after sub-zero temperatures before Christmas hit the quality of sugar beet in the ground and led to a rise in processing costs, and its UK sugar production this year is estimated to be just below 1 million tonnes compared with last year's 1.3 million tonnes.
Analyst Graham Jones at house broker Panmure Gordon held his forecasts for a 5.1 percent half-year earnings rise to 32.1 pence a share and an increase of 2.7 percent to 74.1p for the year to September, with sugar and agriculture helping to offset weakness at Primark and at its ingredients division.

(Reporting by David Jones; Editing by Hans Peters and Jon Loades-Carter)
© Thomson Reuters 2022 All rights reserved.