Première Vision takes full ownership of ModAmont
Première Vision S.A., holder of a 49% stake in ModAmont SAS since 2007, has just taken full control on Friday 2 December of the company that organises the ModAmont show specializing in fashion accessories and components, by purchasing the 51% stake held by Tarsus France SAS.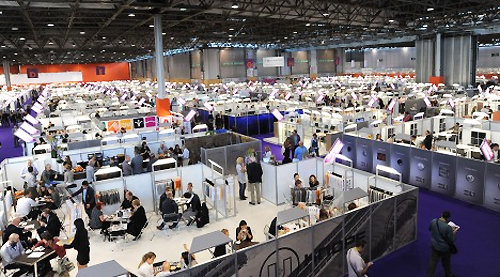 Modamont - Photo : Pixelformula
ModAmont has been fully integrated from the start in Première Vision Pluriel, a group of trade shows targeting fashion professionals that is held twice a year, in February and September, in Paris-Nord Villepinte. At its most recent edition last September, the event brought together 289 exhibitors from 25 countries and welcomed more than 21,000 visitors, 60% coming from abroad.
With this operation, Première Vision S.A. will hold 24 trade shows in 2012 in France, Belgium, Brazil, China, Russia and the United States, and is rounding out its portfolio of global brands in the field of material and services for the fashion and home industries, with Première Vision for fabrics, Indigo (designs), Expofil (yarns and fibres) and now ModAmont (accessories). The group will gather together more than 3,600 exhibitors and welcome about 200,000 international professional visitors from all around the globe with a turnover exceeding 42 million euros.
Première Vision, which has been holding the operational direction of ModAmont since 2007, will integrate this new activity easily. 
The management of the show will remain entrusted to Gilles Lasbordes, a member of the executive board of Première Vision S.A., assisted by the current team. The strategic positioning of the Paris show will be confirmed, and synergies will be developed gradually with the other activities of Première Vision, particularly abroad.
Première Vision S.A is controlled for 51% by Association Première Vision, that gathers 5 French textile trade associations and 49% by GL Events, a leading international event group.
Copyright © 2023 FashionNetwork.com All rights reserved.