Première Vision Pluriel is confident thanks to its positioning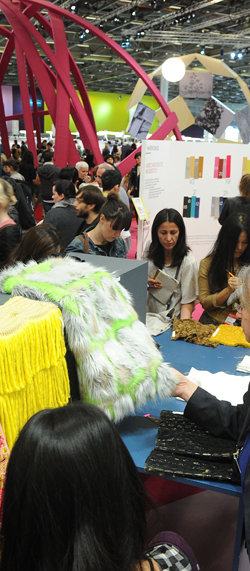 Photo PixelFormula
The big Parisian textile fair is preparing a strong September edition, 1844 exhibitors strong, an increase of 6%. Set to take place from the 19th to the 21st of September, the fair will be held atypically from Wednesday to Friday in order to conform to several international schedules of events. This edition will be marked by the arrival of Knitwear Solution, new space dedicated to flat-bed knitting, which will result in some changes in the organization of the salon.
Because the offering in this new space will be comprised of some 27 exhibitors, with 18 studios exhibiting at Indigo, and in some cases joining Expofil. Previously found at the entrance to Hall 5, Expofil has been moved to be closer to Indigo which is towards the back of the hall. Knitwear Solution will thus act as a connecting point between the two areas.
The space dedicated to flat-bed knitting, intended to complement the rest of the event, will be particularly full of knit specialists, spinning mills and technological products mainly from India and China, and to a lesser extent Turkey, Japan and France. The products will be presented in a booth format comparable to that of First Vision, but in a wooden version equipped with bearings.
For this session, Première Vision Pluriel strengthens its collaboration with IFM (French Fashion Institute). Thus, a study by the agency on young consumers will be presented on September 19th. A report that is both behavioral and forward-looking that will attempt to inform European professionals about the motivations, references and relationships to the style of the new generations of customers.
Première Vision Pluriel will again offer more than one path. One of the two themes, Evening Party, returns with the mission of "bringing a little levity to the economy of the moment", with exceptional products. The other theme, Workwear, on the other hand, will be looking to successful products that are solid, functional and authentic. The stands that make up the route will once again be selected from among the six Pluriel shows.
Launched in 2009, the PV Awards will of course play a role again. The jury will be led this time by Felipe Oliveira Baptista the artistic director at Lacoste.
An uncertain environment
Once again, Première Vision Pluriel will be held within a context of declining consumption. "We have such a market share that we are obviously sensitive to economic conditions," admits Philippe Pasquet, CEO of Première Vision SA. The latter wants to remain optimistic, however, citing Denim by PV as proof that you can unite a European sector in an unfavorable environment.
"We know that the environment is mediocre or downright bad in certain places, but not all is bad," he says. "Luxury is good, better than what we might have expected. Now our product offering is aimed more upward than downward. We are therefore partially protected. Furthermore, while some emerging markets have been a little slow for the past year or two, they continue to move faster than the more advanced markets. This is particularly the case of China, Russia and Brazil. "
Première Vision Pluriel thus takes up the challenge of positioning against that of the economy. With special care for the differentiation of the product offering. "The best players have understood that banality, is death," insists Philippe Pasquet. "So you can have a calmer type of fashion, but also greater attention to materials and product quality".
Copyright © 2023 FashionNetwork.com All rights reserved.