Prada succession worries potential IPO investors
Jun 13 - Would-be Italian investors in the $2.6 billion (1.6 billion pound) IPO of fashion house Prada said on Monday they were worried about the company's valuation and management succession.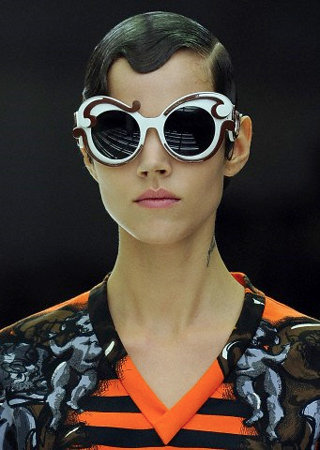 A model presents a creation by Prada during the Milan Fashion Week Spring/Summer 2011 in Milan (Photo: Corbis)
"It is a clear short, it is the clearest short I have ever seen," said Prima SGR fund manager Luca Grassadoni who said he was not impressed by the company's roadshow presentation in an office of Prada's Miu Miu brand in Milan.
"The presentation was horrible. They were stiff and rigid. You are talking about a top brand," he said.
Grassadoni said Prada lacked a clear succession strategy as the group relied heavily on its two key personnel -- Chief Executive Patrizio Bertelli and his wife, creative director Miuccia Prada, both in their 60s and who own 95 percent of Prada via family holdings.
"The only succession (strategy) is they sell. They will be bought by someone else. Maybe in more than (two years). I don't think they have a future on their own," the Prima fund manager said.
Prima is owned by Italy's Banca Monte dei Paschi di Siena and Banca Popolare di Milano.
Sources in Hong Kong, where the Milan group is to be floated, said on Sunday the flotation was five times subscribed.
The fashion brand, best known for its leather handbags, brightly-coloured shoes and geometric print dresses, set an indicative price range of HK$36.5 ($4.69) to HK$48 ($6.17) a share for the IPO, which would value the company at $15.8 billion.<
A second fund manager, who asked not to be named, said Bertelli was evasive when asked about the succession at Prada and the absence of stock options for managers.
Earlier this year, Italian jeweller Bulgari, mainly owned by two brothers in their 70s, sold out to LVMH while taking board representation at the French company.
"He (Bertelli) said that listing is the first step to show Prada is not a family company. There has been a question on stock options that are not there. The reply was a bit evasive," the fund manager said.
"That's a problem because Miuccia is head of design and he (Bertelli) is head of industrial aspects. Other managers are there for 10 years but certainly are not strong personalities and that can be a problem," he told Reuters.
Fund managers expect the pricing of the IPO to be supported by strong demand from Far East investors, even if this gives Prada a valuation premium to European peers such as LVMH and Tod's.
Some investors expect the IPO to be priced at the middle of the indicative range due to skittish sentiment.
Goldman Sachs, Credit Agricole's CLSA brokerage and Italian banks UniCredit SpA and Intesa Sanpaolo's Banca IMI unit, are joint bookrunners and global coordinators of the IPO.
By Nigel Tutt
(Editing by David Cowell)
© Thomson Reuters 2022 All rights reserved.