Prada shares up to 41 pct overpriced, Hong Kong broker says
June 14 - Shares of Italian fashion house Prada SpA could be overpriced by as much as 41 percent, Hong Kong brokerage Phillip Securities said in a report on Tuesday.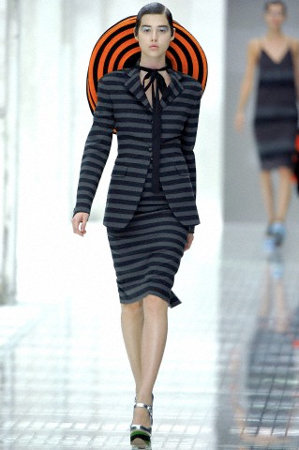 A model on the runway at Prada's spring 2011 show (Photo: Corbis)
Milan-based Prada, known for its leather handbags and colorful dresses, is seeking to raise $2.6 billion though a Hong Kong listing. The company last week set an indicative price range of HK$36.5 to HK$48 a share for its IPO, which was five times subscribed, a source told Reuters on Sunday. .
Phillip Securities, which focuses on retail investors, gave Prada a target price of HK$28.5 over the next 12 months and recommended investors not to subscribe to the offering. The retail offer opened on Monday and the IPO is set to be priced on Friday.
The brokerage called Prada an "aggressively priced luxury brand," despite strong growth for the company's MiuMiu business in Asia and expansion prospects in China and other emerging markets with directly-operated stores.
Prada trades between 26 times to 34 times its expected 2011 earnings, far higher than an average of 20.4 times for luxury companies including LVMH , Hermes , and Cie Financiere Richemont , according to Phillip Securities forecasts.
Concerns about a slowdown in China and other major economies could also weigh on demand for luxury goods that has driven double digit growth in sales for Prada the past years, it said.
Companies including U.S. lender Ally Financial, Australian mining startup Resourcehouse Ltd and Chinese auto parts firm Nanning Baling Technology Co have shelved IPOs due to waning investor appetite. Luggage maker Samsonite priced its Hong Kong IPO last week at the bottom of a revised price range.
"Because of the current situation, with the volatility in the stock market, even though I like the stock, I would suggest only cash subscription, not margin financing," said Dickie Wong, executive director of research at Kingston Securities Ltd.
"I don't see a lot of upside in the first day debut, given that the valuation is not that low."
(Reporting by Elzio Barreto; Editing by Jonathan Hopfner)
© Thomson Reuters 2022 All rights reserved.