Prada gives lace a new look
By Jo Winterbottom
MILAN (Reuters) - Miuccia Prada's theme was lace for her womenswear show on Tuesday with heavy, Chantilly-style fabrics for a Spanish mantilla mood.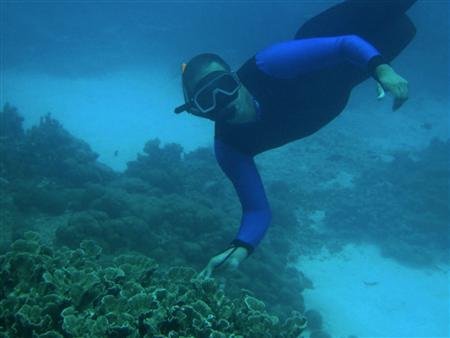 The predominant colour was black, worked dramatically in a straight dress over a pale pastel blue tunic or worn with barely nothing at all for a sexy twist to the traditional textile.
Prada spun out of black into startling bright orange for a straight lace skirt, or used gold for a glamorous jacket and skirt. And she lightened the texture for a black chiffon dress banded with net curtain panels.
The idiosyncratic designer's collection was shown in Milan's winter 2008-2009 fashion week but snow and ice had little to do with Prada's outfits. She has been in the forefront of designers moving away from an emphasis on seasonal inspirations.
Her models wore shoes that had wings back and front, or bows to the toes and heels, in bright metallics and black patents. A pair of boots turned out to be leg covers stopping just above the ankle gladiator-style.
Wings cropped up again for the handles of bags, or in undulating panels on dark grey wool dresses.
And she echoed her menswear show from January by taking a twist to tailoring, so that a waistcoat became a flat panel fastened at the back or a waistband was amplified into nearly a skirt.
CLOTH OVER COLOUR AT BOTTEGA
At Bottega Veneta, plain black and grey wools gained texture with designs inspired by the brand's classic intertwined leatherwork.
Bottega Veneta, owned by the Gucci Group of French company PPR, also shied from patterned prints seen at other shows this week and relied on the fabric to lift plain colours.
Designer Tomas Maier whirled black wool into stand-proud spirals to cover a jacket, or used curled up strips of material to decorate the shoulders of a dress.
A raspberry wool felt sheath dress was complemented by high red suede shoes and matching tights. A green version had matching leather gloves, suede shoes and woven belt.
Exaggerated epaulettes topped an iron-grey tailored jacket and trousers. Wide sleeves on a simple wool dress placed it somewhere between artist's smock and school pinafore.
Maier, whose designs often feature streamlined looks and soft materials, used ultra-fine wool weaves for dresses that looked like swathes of material tied up with tiny drawstrings.
And satin-look evening gowns had diamond backs that ended in an elegant train.
At Blumarine, designer Anna Molinari warmed up her winter womenswear collection with salmon, pink and turquoise.
Molinari swirled pale pink silk into a skirt that looked like a rose and teamed it with a dusky pink Aran knit jumper.
For evening, dresses were made of gathers of chiffon cinched at the waist in flowing grey or leopard print fabrics.
Models in her lingerie line wore negligees in coral silk with lace hem and bodice under fluffy coral long wool wraps.
A turquoise silk slip with spangled side panels was covered with an equally arresting soft shawl coat.
(Editing by Ian Simpson and Richard Williams)
© Thomson Reuters 2023 All rights reserved.