PPR says to focus on cash and cost-cutting
PARIS, May 7 (Reuters) - French retail and luxury group PPR (PRTP.PA) on Thursday 7 May pledged to focus on cutting costs and generating cash to emerge stronger from the current consumer downturn.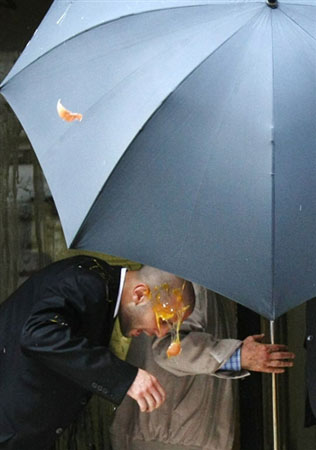 Disgruntled PPR workers threw eggs at shareholders at the group's Annual General Meeting Photo : Joël Saget/AFP
PPR, which owns the French luxury group Gucci and retailers Conforama and Fnac, has been hit hard by the financial crisis and reiterated it would steer clear of making any major acquisitions or disposals.
Analysts have been regularly speculating the group would sell its retail arm to focus on luxury.
"If we concentrated on luxury, it would mean that we would be accepting to be a small company on a world scale," PPR Chief Executive Francois-Henri Pinault told the group's annual general meeting in Paris.
"It is important to have these two businesses to have a world presence."
He added the priority remained cutting net debt, which stood at 5.5 billion euros at the end of the year.
Pinault said the group had made progress on projects aimed at cutting costs such as closing down five Sergio Rossi shops in the United States, one Fnac outlet in Paris and several Conforama stores in Spain and Italy.
PPR has said it planned to eliminate 672 jobs at mail order business La Redoute, 800 at Conforama and 400 at Fnac.
Pinault declined to provide a trading forecast for the year.
At the end of March, the group's overall revenues fell 4.9 percent on a like-for-like basis.
"In 2009, we will remain focused on three major objectives: our impact on customers, cutting costs and generating cash flow," Pinault said.
(Reporting by Pascale Denis; writing by Astrid Wendlandt; editing by Simon Jessop)
© Thomson Reuters 2023 All rights reserved.