PPR says back on acquisition trail via Puma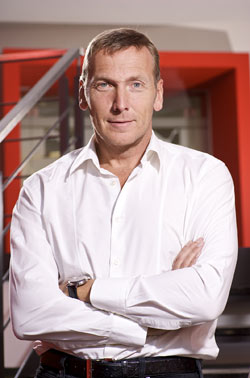 Jochen Zeitz to lead new sport lifestyle unit at PPR
FRANKFURT, Oct 18 (Reuters) - French group PPR (PRTP.PA) made good on a promise to expand in the lifestyle and outdoor sector by charging the head of Puma (PUMG.DE) with hunting for acquisitions and building a new unit based around the German brand.
The move is part of PPR's long-held ambition to move away from retail, to focus solely on luxury and lifestyle and shed its conglomerate discount in terms of valuation.
The new sports and lifestyle division will generate higher turnover than PPR's luxury unit Gucci Group, which also includes Balenciaga and Stella McCartney fashion brands, PPR chief executive Francois-Henri Pinault said.
"The sport and lifestyle division will be, in my view, more important in size, in turnover, because we are operating in mass-market segments, but not in terms of profit," Pinault said in a joint conference call Puma CEO Jochen Zeitz.
PPR's luxury brands had turnover of 3.4 billion euros ($4.75 billion) in 2009, compared with just under 2.5 billion for Puma.
Separately, PPR dashed hopes, however, that it would buy out the minority shareholders in Puma -- the world's No.3 sporting goods maker behind Nike (NKE.N) and Adidas ADSGn.DE -- sending the German company's shares down 2.5 percent at 253 euros.
"There were some disappointed investors, as PPR said it did not intend to buy Puma wholly," one trader said.
Shares in PPR, which also owns the Yves Saint Laurent fashion brand, also dropped, down 1.7 percent at 117.20 euros.
Pinault said the group would not look to buy any brands that would directly compete with Puma's products.
"Puma is and will remain the main priority in terms of potential for growth," he said.
Natixis analyst Boris Bourdet said PPR's return to the acquisition trail was a sign that the markets were recovering.
"And as there is not much to acquire in the luxury world, there will be more acquisition opportunities in the lifestyle and outdoor sector," he added.
Possible brands mentioned by analysts in the past include Quick Silver, Billabong and Timberland among others.
Pinault repeated the group would not make any major acquisitions until after it had disposed of Fnac and Conforama, its retail businesses.
"I know that the markets are a little bit nervous about what we are going to buy at what conditions," Pinault said, adding that he did not wish to endanger the group's credit rating.
Zeitz, who has been at the helm of Puma for 18 years overseeing the transformation of the once unfashionable brand, will assume his role as head of the PPR unit, once a new CEO for Puma has been found.
Both internal and external candidates will be considered and Puma has not set a time limit for finding a new CEO, Zeitz said.
Puma will also change its legal structure to that of a European corporation and be renamed Puma SE, with only one board to be chaired by Zeitz.
Pinault will also have a seat on the board, although it was not clear whether the new Puma CEO would.
Puma will announce third-quarter results and update the markets on its strategy for the period until 2015 on Oct. 26.
(By Victoria Bryan. Additional reporting by Harro ten Wolde, Daniela Pegna; Editing by Astrid Wendlandt and ) ($1=.7153 Euro)
© Thomson Reuters 2023 All rights reserved.