PPR Q4 beats forecasts, luxury shines
Feb 17 - French luxury and retail group PPR posted a forecast-beating current operating profit for 2010, boosted by a recovery in the luxury market and solid growth at its Puma sportswear brand.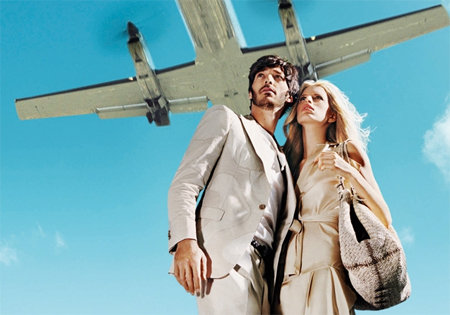 Bottega Veneta, owned by the Gucci Group, owned by PPR
The owner of fashion brands Balenciaga and Gucci and retailer Fnac posted a full-year current operating profit of 1.531 billion euros ($2.07 billion), above expectations of 1.487 billion based on a Reuters poll.
It proposed a dividend of 3.5 euros a share, marking a 6.1 percent increase against the previous year.
PPR did not give a precise target for 2011 aside from improving sales and profits against the previous year.
In the fourth quarter alone, the group's luxury division Gucci Group enjoyed the strongest growth with a 14.4 percent rise in comparable sales, driven mainly by smaller brands than Gucci such as Bottega Veneta, Yves Saint Laurent and Balenciaga.
Gucci Group's fourth-quarter performance compared with growth of 16.7 percent in the third quarter.
"The slowdown in the fourth quarter is smaller than expected in the luxury division," said Natixis analyst Boris Bourdet. "Overall, it (PPR's results) is better than expected, both for the operational and the net profit. Regarding Fnac, I expected a bigger drop in the fourth quarter."
Having agreed to dispose of its Conforama furniture retailer late last year, PPR is now looking to offload home shopping business Redcats, whose comparable sales rose 0.4 percent in the fourth quarter, as well as Fnac, which saw a 0.7 percent drop in fourth-quarter like-for-like revenue.
PPR is moving away from retail to focus on sport, lifestyle and luxury and is on the lookout for acquisitions to strengthen its position in those markets.
Gucci Group generated comparable sales up 12.2 percent in 2010, compared with LVMH which saw its fashion and leather goods sales rise 13 percent and Hermes which recorded a rise of 18.9 percent.
Sportswear unit Puma on Tuesday reported 2010 sales growth of 10.6 percent and a jump in net profit of 154 percent.
PPR's full-year sales reached 14.605 billion euros, slightly beating a Reuters poll forecast of 14.476 billion.
PPR shares, which gained 41 percent in 2010, have lost nearly 5 percent since January 1 due to the luxury sector's re-rating caused by investors getting out of it in favor of more cheaply valued industries such as utilities and media.

(Editing by Mike Nesbit and Jon Loades-Carter)
© Thomson Reuters 2023 All rights reserved.