PPR Q1 sales slightly above forecasts
PARIS, April 21 (Reuters) - French retail and luxury group PPR (PRTP.PA) on Tuesday 21 April posted slightly better-than-expected first-quarter sales, helped by shoppers' resilient appetite for Gucci leather goods.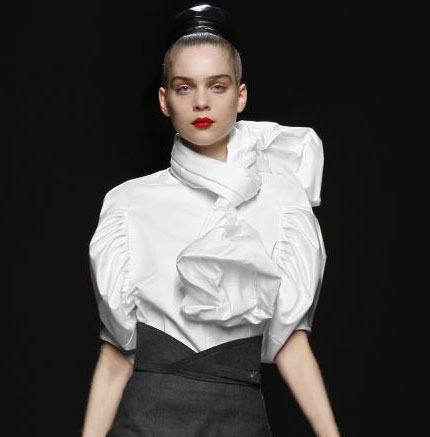 Yves Saint Laurent Autumn-Winter 2009/2010 Preview
PPR, whose luxury group includes fashion houses Yves Saint Laurent and Stella McCartney, made sales of 4.78 billion euros ($6.17 billion) in the three months to March 31, slightly above expectations of 4.73 billion euros based on Reuters Estimates.
It pledged to continue cutting costs and steering clear of lowering prices, even if that meant a drop in sales in the short term. "We give priority to the preservation of our gross margin even if that must weigh on our sales in the short term," PPR Finance Director Jean-Francois Palus told journalists in a conference call.
"For me the environment is still very difficult, the consumer environment is still morose," he added.
Palus added that Gucci leather goods sales rose 8 percent in the first quarter at constant exchange rates while comparable leather goods sales overall at Gucci Group rose up 2 percent.
Sales fell across all of PPR's retail divisions during the first quarter but Conforama suffered most with a 10 percent drop to 710 million euros.
Revenues from books and electronics retailer Fnac fell 4.5 percent to 980 million euros and sales from Redcats dropped 5.4 percent to 867 million euros.
The group did not give detailed forecasts for the current year.
(Reporting by Astrid Wendlandt, Editing by Marcel Michelson)
© Thomson Reuters 2023 All rights reserved.