PPR launches sustainability initiative with 'PPR Home'
PPR wishes to integrate sustainable development into its business model. Fifteen years after the signing of the group's first Code of Ethics, PPR's CEO François-Henri Pinault, together with Puma's CEO Jochen Zeitz (who is also the group's newly elected Chief Sustainable Officer , as well as being responsible for the Sport & Lifestyle sector), strived to present their ideas and plans of action in terms of sustainable development.

Named PPR Home, this large-scale initiative aims to set "a new standard in sustainability and business practice in the Luxury, Sport & Lifestyle and Retail sectors". For François-Henri Pinault, the Copenhagen climate summit showed just how difficult it can be for states to come to an agreement and therefore companies have an important role to play. Certainly, PPR is counting on its extensive brand portfolio (Gucci, Puma, Bottega Veneta, Yves Saint Laurent, etc) to convince suppliers and distributors to support the project.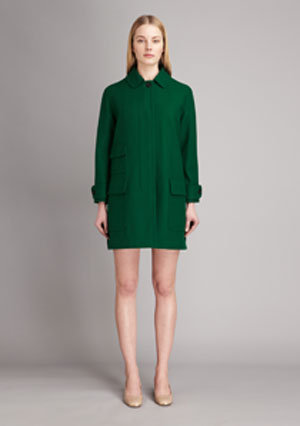 Stella Mc Cartney is working on organic wool
The choice of name also seems to be based on Yann Arthus-Bertrand's documentary 'Home' from 2009, which was financed by PPR. The group has already allocated a portion of each of the 140 managing executive's variable incomes to achieve the set goals regarding sustainable development. "My deep conviction that Sustainability creates value is part of my strategic vision for PPR. Sustainability can – and must – give rise to new, highly ambitious business models and become a lever of competitiveness for our brands", says François-Henri Pinault. Of course, each of the group's brands has been putting initiatives to protect the environment into practice for a while, such as Redoute's eco-friendly line or even Puma's solar powered phone. However, this time the French group wants to rethink its whole business paradigm and tackle all problems, from production to retail, by cutting across all sectors.
Consisting mainly of a network of specialists, plus a team of 15 full-time executives, PPR Home is going to be funded with 10 million euros per year. This budget is going to be reevaluated at the end of each year due to the evolution of dividends. For the time being, PPR has given priority to the launch of a "creative sustainability lab", in partnership with Cradle-to-Cradle, which will challenge traditional approaches and propose an environmentally friendly methodology. The first few projects will concern the development of products and stores. "Companies are in the best position to bring changes. We must re-think the conventional business models", Jochen Zeitz added.
Puma's next annual report is going to be measuring and costing its use of ecosystems and its ecological footprint. The goal is clearly to encourage shareholders to pay more attention to the environment, which must be preserved in order to ensure the permanence of the company's values. "The initial problem is that we must measure things in order to quantify them and thus be able to see the progress", Jochen Zeitz continues.
Copyright © 2023 FashionNetwork.com All rights reserved.