PPR H1 operating beats forecasts, Gucci shines
PARIS, Aug 29 (Reuters) - French retail and luxury group PPR confirmed its full-year outlook as it posted a first-half current operating profit slightly above forecasts, helped by the sparkling performance of its luxury arm Gucci.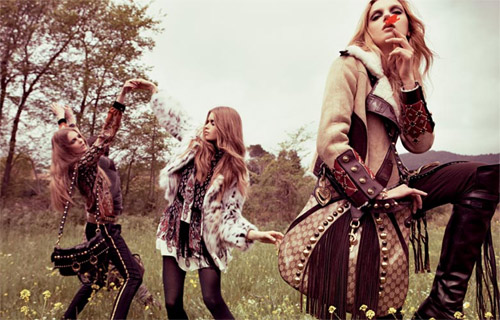 Gucci campaign
The group, which includes the FNAC retail chain, said on Friday, August 29th its current operating income reached 742 million euros ($1.1 billion) in the six months, against expectations of 734 million according to a Reuters poll and 599 million last year.
Its current operating margin came at 7.7 percent, up from 7 percent last year.
PPR, whose Gucci unit encompasses fashion design houses Balenciaga, Alexander McQueen and Stella McCartney, confirmed its target of improving results in 2008.
PPR Deputy Chief Executive Jean-Francois Palus said on a conference call the Gucci group generated an operating profit of 300 million euros in the first half, which beat expectations of 292 million based on the Reuters poll.
"The outperformance stemmed from the better-than-expected EBIT (operating profit) in luxury," analysts at Citigroup said in a note, adding the 300 million euro figure was above its forecast of 293 million.
Gucci's group operating profit was up 13 percent in real terms and 36 percent at comparable exchange rates, the company's statement said, without giving absolute numbers for this year and last -- both for the group and for the Gucci brand itself.
Palus told journalists Gucci made an operating profit of 285 million euros in the first half, generating a margin of 28 percent which was flat year-on-year. PPR's net profit, excluding non-recurring items, rose to 344 million euros in the first half, up from 293 million last year.
The bottom line net profit came at 779 million euros, including 417 million euros mainly from the disposal of the cosmetics branch of Yves Saint Laurent to L'Oreal , Palus said.
PPR still owns the clothing company founded by designer Yves Saint Laurent (YSL) who died in June. Palus said the YSL fashion house had narrowed its loss to 12 million euros in the first half of this year from 26 million last year.
"We are following our plan," Palus said, declining to say when he expected Yves Saint Laurent to make a profit. (Editing by David Cowell and David Holmes)
© Thomson Reuters 2022 All rights reserved.