PPR first half beats forecasts, Japan luxury spending slumps
PARIS, July 31 (Reuters) - French luxury and retail group PPR (PRTP.PA) said on Friday 31 July it was hit by a slump in spending on luxury goods in Japan and at U.S. department stores but still managed to post first-half profits that beat forecasts.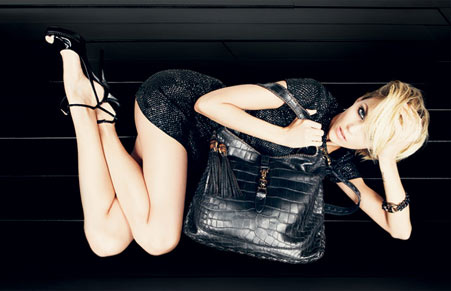 Gucci - August 2009
The retailer behind Gucci Group -- the owner of fashion brands Yves Saint Laurent, Balenciaga and Gucci -- said it hoped cost-cutting efforts would start paying off in the second half.
At 0703 GMT, PPR shares were up 5 percent at 74.6 euros.
PPR made an operating profit of 707 million euros in the six months to June 30, down from 743 million euros in the year-ago period and beating average expectations of 620 million euros based on a Reuters poll.
Citi said it expected PPR consensus figures for the year to be nudged up slightly, though given the benefits of easier comparatives "we argue there are upside risks to current forecasts."
The operating margin of the Gucci brand, which accounts for the bulk of profits at the luxury unit, was down 1.1 percentage points at 26 percent during the first half, PPR's Finance Director Jean-Francois Palus said.
Gucci Group generated an operating profit of 305 million euros on revenues of 1.642 billion euros, down 3.7 percent at comparable exchange rates.
Bu contrast, Italian rival fashion group Tod's (TOD.MI) saw first-half sales rise 2 percent at constant exchange rates with shoe sales up 7.7 percent on reported basis amid a "highly challenging environment." [nLT509576]
Palus said Gucci's leather goods sales in the second quarter at its retail outlets rose 6 percent at constant exchange rates, compared with a jump 21 percent in leather goods revenues from chic handbag maker Hermes (HRMS.PA) during the period.
PPR stuck with its custom of not giving a full-year outlook.
"I remain confident in our capacity to further strengthen our competitive advantages and our positions in each of our activities," PPR Chairman and Chief Executive Francois-Henri Pinault said in a statement.
Palus said luxury sales in the second quarter fell 22 percent in Japan at comparable exchange rates and were down 11 percent in the United States, hit by tough wholesale trading.
In Europe, second-quarter luxury revenues rose 1 percent on the same basis, he added.
PPR first-half sales overall were down 5.9 percent at comparable exchange rates at 9.235 billion euros, above expectations of 9.16 billion euros based on a Reuters poll of nine analysts.
(Reporting by Astrid Wendlandt; editing by John Stonestreet)
© Thomson Reuters 2023 All rights reserved.