PPR confirms eyeing Brioni, Redcats sale at risk
PARIS, Sept 12 (Reuters) - French retail and luxury group PPR confirmed it was in talks to acquire family-owned Italian tailor Brioni and added there was a risk the recent drying up of the debt market could affect the disposal of its mail order business Redcats.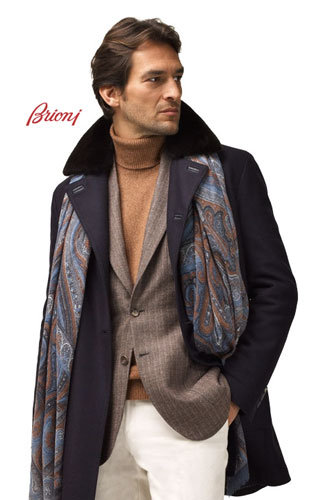 Brioni - AW 2011-12
"We have had discussions with them (Brioni), like others, but it is not finalised," PPR Chief Executive Francois-Henri Pinault told a small group of journalists in China on Friday and his comments were repeated by his spokesman on Monday.
The deal this summer carried a price tag of about 350 million euros ($480 million), Reuters reported, citing sources close to the deal. If it went ahead, the acquisition would allow PPR to make progress on its pledge to strengthen its position in the luxury market and get out of retail.
Pinault said PPR was competing against trade buyers and private equity suitors and in parallel, the group was looking to acquire a Chinese brand "with its own identity" but had not found a target yet.
Regarding PPR's sale of Redcats, Pinault admitted the deal could be affected by adverse conditions in the debt market. Asked about the matter, Pinault said: "There is a risk for sure and we are looking at this closely."
Back in early August, PPR was expecting to receive preliminary offers for Redcats this month. PPR is hoping to get more than 2 billion euros for Redcats which owns mail order business La Redoute and clothing brand Cyrillus. ($1 = 0.729 Euros) (Reporting By Astrid Wendlandt and Pascale Denis; Editing by Jon Loades-Carter)
© Thomson Reuters 2023 All rights reserved.