Playboy posts loss, sees magazine ad decline
By Michele Gershberg
NEW YORK (Reuters) - Adult entertainment publisher Playboy Enterprises Inc posted a net loss that upset Wall Street expectations for a profit and forecast a 30 percent advertising decline at its flagship magazine this quarter.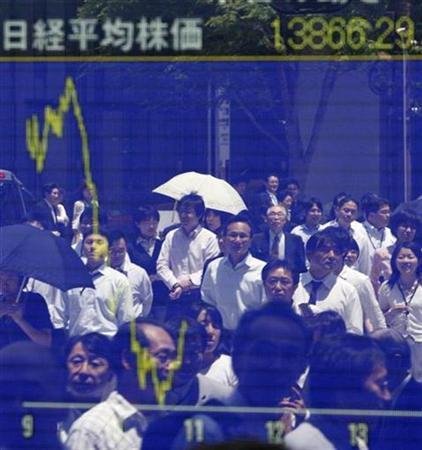 Shares of the company fell as much as 10 percent to a year low on Wednesday after it reported lower U.S. television revenue and a deeper loss for its publishing group that particularly weighed on results, offsetting double-digit growth for its international television and licensing businesses.
Playboy has been competing against an abundance of free erotic material on the Internet and now faces a deteriorating U.S. print advertising market.
The company did not make an earnings forecast for 2008 and could not say when it would resume giving an outlook due to the "murkiness" around its ability to raise online profits ahead of declining print results.
"We are working through some difficult transitional issues and laying the groundwork for the future," Chief Executive Christie Hefner said on a conference call with analysts. "It is important to remember that the Playboy brand is stronger and more popular than at any time in the company's history."
The company said its fourth-quarter net loss was $1.1 million, or 3 cents per share, compared with a net profit of $3.7 million, or 11 cents per share, a year earlier.
The latest results included a $1.9 million charge for asset sales related to Playboy's Andrita television studio and nearly $2.6 million in tax benefits. The year-ago quarter included a $1.8 million charge for a legal settlement.
Revenue slipped to $85.9 million from $86.2 million a year earlier, the company said.
Excluding the one-time items, Playboy posted a lost of 9 cents per share, compared with the average analysts' forecast for a profit of 5 cents per share, according to Reuters Estimates. Revenue had been forecast at $88.2 million.
EUROPEAN MOBILE MARKET
Hefner said the company would invest more in technology, marketing and content to drive its Web and mobile businesses, where growth is expected to pick up in the fourth quarter.
"We're moving into a world where everybody is going to have options for content on three screens. We think we're going to play very successfully," Hefner told Reuters.
"What's important for us is to be able to get on deck with carriers," she said.
Hefner sees the biggest new growth opportunity for mobile adult content in Europe, while the U.S. remains the least developed marketplace due to competing technology formats and slow video downloads.
Playboy is also working out a deal to outsource its Web commerce and catalog operations to an experienced merchandising company, a move to boost sales for its licensing unit.
Profit from its entertainment unit slid to $2.5 million from $4.7 million a year earlier and revenue fell 3 percent to $50.7 million on weaker U.S. TV results. Within the segment, online and mobile revenue rose slightly to $17.7 million.
The company's publishing segment reported a $1.5 million loss for the quarter compared with a loss of about $500,000 a year before, hurt by lower subscription and advertising revenue.
It predicted a 30 percent decline in Playboy magazine ad revenues in the first quarter, due to lower base rates that took effect in January and a decision by major advertiser R.J. Reynolds Tobacco Co, a unit of Reynolds American Inc , to cut its print spending.
Hefner said the company is growing advertising relationships in other categories, including deals with automaker Mazda Motor Corp and men's fragrance and grooming marketers.
Despite a grim print outlook, Hefner said the company remains committed to its physical magazine as an ambassador for the Playboy brand that helps anchor other properties.
Any retreat from that position could "irrevocably" harm the company's multimedia strategy, she said in an interview.
Playboy licensing income rose 17 percent to $6.9 million, with revenue up 18 percent to $10.5 million, helped by sales of both lingerie and dressy nightclub wear.
Playboy shares had recovered somewhat by afternoon and traded 32 cents lower or 3.7 percent at $8.32 on the New York Stock Exchange.
(Additional reporting by Tiffany Wu; editing by Gerald E. McCormick and Dave Zimmerman)
© Thomson Reuters 2023 All rights reserved.