Pitti Uomo reignites calendar wars
During the press conference in Milan to present the January edition of Pitti Uomo held in Florence, Italian organizers of the leading exhibition for menswear criticized the lack of coordination between the various men's fashion events and reiterated their intention to hold the next three winter editions of Pitti Uomo on January 8, from 2015 to 2017.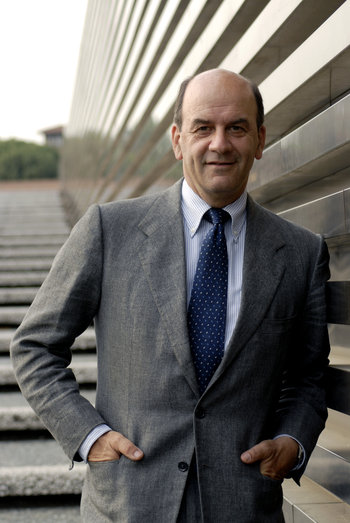 Raffaello Napoleone, CEO of Pitti Immagine
"The big question is about the dates of the winter editions. This year, for the first time, we will start on January 7. This has never happened in our history. We are doing it to maintain an equilibrium in Europe, but we would have preferred that the dates be decided with better judgment. The situation is very difficult for the men's wear dates, especially in January," said Raffaello Napoleone, CEO of Pitti Immagine. He called for increased coordination on the men's fashion calendar, "without having to bow to the dictates of others."
Normally, when the timing of men's fashion is close to the holidays, Pitti Uomo and the Milan and Paris fashion weeks postpone their dates one week so as not to start around the Feast of the Epiphany, January 6. However, this rule was not followed for 2014. The British Fashion Council decided to start its men's fashion week in London on January 6. The other fashion capitals set their calendars according to this date, forcing Florence to move up its own date.

Thus, the next edition of Pitti Uomo in Florence will be held from January 7–10, 2014, while the "London Collections: Men" is scheduled for January 6–8, overlapping two days of the Italian trade fair. "There is a certain rigidity abroad among the English and the French. The British event dates conflict with the Epiphany and the Orthodox Christmas. During these very sensitive dates, you have to work intelligently, otherwise you do a disservice to the market. Some people preferred to be competitive, striving to be the first. Doing so is completely stupid," said Raffaello Napoleone, who is determined not to be "pushed around."

Men's wear represents nearly 60% of ready-to-wear sales in Asia and the Middle East. The men's fashion market is becoming increasingly important. In this context, it does not make sense to go to war, say the organizers of Pitti Immagine. But if the rules are not respected, Florence is determined to go its own way. "We are currently working to find better coordination in men's wear with the Chamber of Italian Fashion. We are proposing the use of fixed dates, as we have already decided for the winter edition of Pitti Uomo, which will start every year on January 8, effective 2015 for the next three years," said the Pitti Immagine CEO.
Copyright © 2023 FashionNetwork.com All rights reserved.