Phillips-Van Heusen beats, but Tommy weighs in second quarter
SAN FRANCISCO, May 24 (Reuters) - Phillips-Van Heusen Corp (PVH.N) beat Wall Street estimates in its first quarter, but a second quarter profit forecast lighter than some analysts anticipated sent its shares down nearly 4 percent in after-hours trading.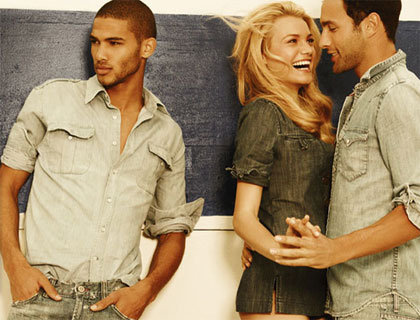 Tommy Hilfiger
Analysts had been expecting a bigger boost from Tommy Hilfiger, the preppy apparel brand recently acquired by the clothing maker, but the company cited weaker seasonal business trends in that unit for the second quarter.
A higher projected share count also was expected to dilute earnings further.
"It's Tommy being seasonably not as profitable ... and the higher share count," said Brean Murray Carret analyst Eric Beder, explaining the market reaction.
He noted, however, that the company's projections for the second half of the fiscal year were higher than analysts were expecting.
Due to costs associated with the Tommy Hilfiger deal, Phillips-Van Heusen posted a net loss in its fiscal first quarter of $22.6 million, or 53 cents per share, compared with a profit of $49.1 million, or 48 cents per share, a year earlier.
Excluding those costs, the company earned 83 cents per share -- above the 79 cents per share expected, on average, by analysts, according to Thomson Reuters I/B/E/S.
Revenue rose 11 percent to $619 million in the quarter, helped by global growth in the Calvin Klein brand and strong wholesale and retail results.
TOMMY BOOST
Phillips-Van Heusen expects second-quarter earnings of 50 cents to 52 cents per share, excluding costs from Tommy Hilfiger.
That brand is expected to generate some $40 million of operating income in the quarter.
But the weaker seasonal business trend and lower share count is expected to reduce overall earnings in the second quarter by 12 cents per share, the company said.
"Most of the people on the Street, and I'm one of them, assumed the merger would close a little later than it did, and we really didn't understand the seasonality in terms of profitability," said Beder.
Revenue is expected to range between $1.08 billion and $1.10 billion, including a $520 million contribution from Tommy Hilfiger.
The company expects 71.5 million shares outstanding on an adjusted basis. Beder had been planning for about 60 million.
Wall Street had been expecting adjusted earnings of 71 cents in the second quarter on revenue of $635 million, but it was not immediately clear if those were comparable.
For 2010, the company expects adjusted earnings of $3.55 to $3.65 on revenue of $4.35 billion to $4.40 billion.
That includes an approximately 20 cent to 25 cent boost to earnings and a $1.8 billion contribution to revenue from the Tommy Hilfiger brand, but does not include some $300 million in pre-tax costs due to the acquisition and integration.
Wall Street had been expecting 2010 earnings of $3.63, according to Thomson Reuters I/B/E/S.
For non-Tommy Hilfiger retail businesses, same-store sales are expected to grow about 4 percent to 5 percent in 2010.
The company's shares fell 3.6 percent to $52.35 after closing at $54.28, up 2.45 percent, on the New York Stock Exchange. (Reporting by Alexandria Sage; editing by Steve Orlofsky and Andre Grenon)
© Thomson Reuters 2022 All rights reserved.