Philip Green mulls UK plants to counter import costs
March 16 - British billionaire Philip Green, owner of the Arcadia retail group, said he is considering investing in and sourcing from UK clothing factories to mitigate the soaring cost of cotton and Asian wage inflation.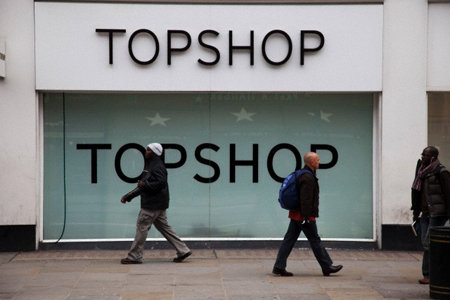 People walk past the shop front to high street fashion chain store, Topshop. London.
"When the market is as it is you want to manage as near home as you can. That's why there's some debate about UK manufacturing and people actually opening some new factories," Green said at the RetailWeek Conference on Wednesday.
"I actually am very supportive of seeing if we can open some UK factories. I think it's something we've got to try to do, both for the employment but also for the opportunity while we're here," he said.
"Are there any dormant factories that at speed we could look at reopening in an intelligent way?"
But Green, whose family was ranked ninth in the 2010 Sunday Times Rich List with an estimated fortune of just over 4.1 billion pounds, stressed that any UK sourcing would still represent a tiny proportion of Arcadia's overall clothing supplies.
"Is suddenly all our production coming back here? No. Is there an opportunity to do some production here? Hopefully there is and we're going to try," he said.
Monaco-based Green's TopShop to Dorothy Perkins to Bhs group currently sources clothing from 32 countries.
The 59-year-old entrepreneur, who last October published a government-commissioned report on efficiency savings, said he was hopeful of government support for any UK initiatives.
Green, in common with other major retailers at the conference, forecast a very hard 2011 for the industry and said there was little sign of any recovery.
"It's hard at the moment, a tough market," he told reporters.
"The weather's been lousy, it's been cold ... We need to get to Easter and see what the world looks like," he said.
Green, who bought department store chain Bhs for 200 million pounds in 2000, Arcadia for 850 million pounds in 2002 and has twice tried and failed to buy British clothing, homewares and food retailer Marks & Spencer, played down the prospect of more deals.
"We've got enough to do ... We've got enough shops," he said.
By James Davey
(Editing by Mark Potter)
© Thomson Reuters 2023 All rights reserved.