Perry Ellis slashes EPS view, plans more job cuts
SAN FRANCISCO, Jan 6 (Reuters) - Clothing manufacturer Perry Ellis International Inc on Tuesday dramatically cut its fiscal 2009 profit outlook for the second time in two months and said it would eliminate more jobs and reduce corporate expenses.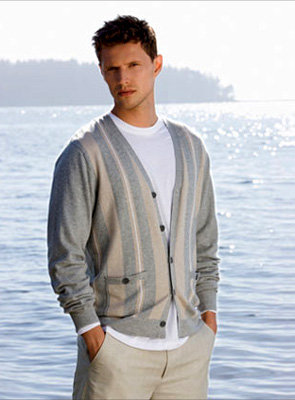 Perry Ellis spring 2009
But the company said ongoing cost-cutting measures would allow it to beat analysts' profit expectations for fiscal 2010.
The men's and women's clothing maker, whose brands include Perry Ellis, Laundry by Shelli Segal, Cubavera and Jantzen, said it would exit unprofitable businesses and focus on those with future potential such as outlet stores and ladies clothing.
Due to more retail promotions during the holiday month of December, Perry Ellis now expects fiscal 2009 fourth-quarter earnings to break even, while sales are expected to range between $200 million and $210 million.
For fiscal 2009, the company now expects earnings of between 55 cents to 65 cents. That compares with analysts' average expectation of $1.09, according to Reuters Estimates.
In November, the company said it expected a fiscal 2009 profit of 90 cents to $1.10 per share. That was below an earlier outlook of $1.67 to $1.72 per share.
"The entire apparel industry was faced with a highly promotional environment to drive customer purchases in December, and we were not immune to this phenomenon," Chief Operating Officer Oscar Feldenkreis said in a statement.
Chief Executive George Feldenkreis called the retail environment "volatile" and said the company was planning conservatively.
Miami-based Perry Ellis, which announced in November a formal review process to control expenses, said on Tuesday that it had eliminated management bonuses for fiscal 2009 and found an additional $5 million in annual savings from headcount reductions and lower corporate overhead expenses.
That $5 million is on top of a previously announced $15 million in annual savings from the strategic review.
Perry Ellis did not indicate what jobs would be cut, but in November, the company said it planned cuts in its specialty store businesses and shared services.
The company expects fiscal 2010 profit to beat the $1.05 per share expected, on average, by analysts polled by First Call.
In thin trading after hours, Perry Ellis shares were headed lower from their Nasdaq close at $6.49, 78 percent below their 52-week high in May. (Reporting by Alexandria Sage; editing by Gunna Dickson)
© Thomson Reuters 2022 All rights reserved.