Perry Ellis outlines restructuring plans
Perry Ellis International Inc posted a fourth-quarter profit that narrowly beat analysts' estimates and the clothes maker outlined restructuring plans to turn around its business.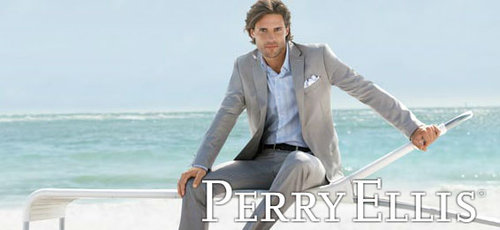 Photo: Perry Ellis
Perry Ellis, whose brands include Laundry by Shelli Segal, Cubavera and Jantzen, said it plans to cut jobs and close some smaller brands and businesses -- which generate sales of about $30 million to $40 million -- by the end of the year.
In February, Perry Ellis said it would review its brand portfolio to cut distribution and sourcing expenses, and focus on profitable businesses.
The Miami-based company has identified about $5.5 million in annual cost savings and will take a charge of about $2 million related to the initiatives, it said in a statement.
The company, which caters to retailers like Kohl's Corp , Macy's Inc and Dillard's Inc, has seen declining margins for a year as increased competition and merchandise missteps forced it to sell at low prices.
The company, which designs and distributes apparel, accessories and fragrances has had to raise discounts on its namesake brand and Rafaella products as they did not sell well in the second half of the fiscal 2012.
FOURTH QUARTER BEATS
Perry Ellis posted a fourth-quarter profit of $1.8 million, or 12 cents a share, compared with $7.7 million, or 54 cents a share, last year.
Excluding items, it earned 38 cents a share.
Sales rose 11 percent to $229.4 million.
Analysts, on average, had expected earnings of 37 cents a share, on revenue of $229.3 million, according to Thomson Reuters I/B/E/S.
Selling, general and administrative expenses fell 2 percent to $55.5 million.
For fiscal 2013, the company expects adjusted earnings of $1.95 to $2.00 a share, on revenue of $990 million to $1 billion.
Analysts were expecting a profit of $2.14 a share, on revenue of $1.03 billion.
"While we expect some ongoing challenges, we are encouraged by the positive momentum of our core businesses at the start of fiscal 2013 with our priorities intensely focused on our namesake Perry Ellis brand," chief operating officer Oscar Feldenkreis said in a statement.
Perry Ellis shares, which have risen about 24 percent this year, were trading up 5 percent at $18.91 on Thursday morning on the Nasdaq.

Reporting by Ranjita Ganesan
© Thomson Reuters 2022 All rights reserved.