Penney sees 2011 sales gains, plans share buyback
Feb 25 - Department store operator J.C. Penney Co Inc's shares fell more than 4 percent Friday as analysts questioned the company's ability to keep cutting costs and its vulnerability to customers being shocked by rising gas prices.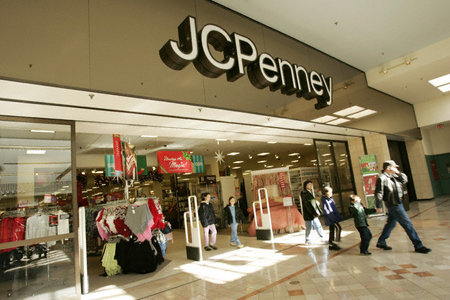 J.C. Penney store in New Jersey, USA
The company said that selling, general and administrative expenses as a percent of sales would be flat this year, even as it expects same-store sales and profit would continue to improve in 2011.
Analysts also cautioned that Penney is particularly vulnerable, arguing that its shoppers are more likely than those of many rivals to pull back because of higher gas prices and higher pricetags on clothes starting in the fall as inCreased cotton costs kick in.
"Nobody knows what the headwinds will be as far as pricing and consumer behavior go," said Morningstar analyst Paul Swinand.
Penney forecast fiscal 2011 earnings of $2 to $2.10 per share. For the current quarter, it expects a profit of 18 cents to 23 cents per share, and for comparable sales to be up 3 percent to 5 percent in the current quarter.
It reported net income for the fourth quarter, ended Jan. 29, rose 35.5 percent to $271 million, or $1.13 a share, from $200 million, or 84 cents a share, a year earlier.
Penney earned $1.09 per share from continuing operations, beating Wall Street expectations by one cent, according to Thomson Reuters I/B/E/S.
Penney also announced a $900 million share repurchase plan, equal to more than 10 percent of its market capitalization. It said it would begin buying back shares in March.
The company said its exclusive Liz Clairborne branded line and its in-store Sephora cosmetics boutiques had helped sales and would continue to do so this year.
The company's largest shareholder and newest board member, Pershing Square Capital Management's William Ackman, said last month that Penney has long underperformed rivals like Kohl's Corp and that his interest was primarily in helping Penney improve its retail business.
After stumbling during the recession as many of its shoppers traded down to discount chains, Penney's performance has been improving. Same-store sales rose 4.5 percent during the holiday quarter, while overall sales were up 2.8 percent to $5.7 billion.
Penney said it expects more improvement, forecasting same-store sales will rise by a low-to-mid-single-digit percentage in fiscal 2011. The forecast is slightly above those of Kohl's, which expects growth of between 2 and 4 percent, and Macy's Inc, which expects a 3 percent increase.
Penney Chief Executive Myron Ullman told Reuters last month that it will be harder for Penney to pass higher cotton costs onto shoppers on more inexpensive items, which make up a larger portion of Penney's business than say Macy's.
Last week, Penney shares hit a yearly high and Swinand said they may have much more room to rise. Penney's shares trade for 23 times future earnings, compared to 14 times for Kohl's and 10 times for Macy, suggesting they have become expensive.
Penney has been in a turnaround that has centered on lining up trendier merchandise to win fashion-conscious customers.
Annual sales in fiscal 2010 rose, but were still 10.6 percent below pre-recession levels.
Under pressure from Ackman, Penney in January said it would close five underperforming locations, two of its five remaining call centers, and finish winding down its catalog operations.

Ackman, who took a 16.5 percent stake in Penney last autumn, was elected to the company's board earlier this week, sparing Penney from the kind of bruising proxy fight he waged three years ago with discount chain Target Corp.

Penney shares were down $1.50 at $35.05 on Friday on the New York Stock Exchange.

(Reporting by Phil Wahba, editing by John Wallace, Dave Zimmerman)
© Thomson Reuters 2022 All rights reserved.