Penney, Kohl's, Eagle same-store sales top views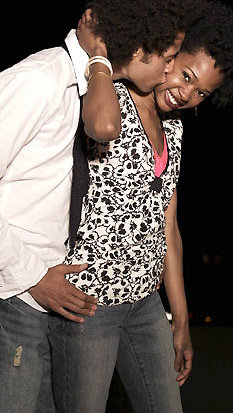 American Eagle outfitters 2008
* Penney, Kohl's, American Eagle sales drop; top forecasts
* Costco same-store sales weaker than expected
* Penney shares rise 2.5 percent, Kohl's up 3 percent
(Adds American Eagle detail)
By Ben Klayman
CHICAGO (Reuters) - J.C. Penney Co Inc, Kohl's Corp and American Eagle Outfitters posted lower August sales at stores open at least a year on weaker back-to-school spending, but the declines were not as steep as Wall Street feared.
In contrast, discounter Costco Wholesale Corp's same-store sales rose 9 percent due to bargains on gasoline and food, although that rise was weaker than expected.
The largest U.S. retailers are due to report same-store sales on Thursday. Several companies issued results a day early to coincide with executive presentations at a retail conference.
"We're not seeing any indication that the consumer has more money or feels better," Kohl's Chairman Larry Montgomery said at the conference sponsored by Goldman Sachs.
J.C. Penney's

The department store said its women's apparel and family shoes divisions were the strongest, while fine jewelry and home divisions saw the weakest sales.

At teen retailer American Eagle , same-store sales fell 5 percent, hurt by continued weakness in its young women's business. Still, that was better than the 6.5 percent decline expected by analysts.

The company stood behind a previously issued third-quarter earnings forecast of 31 cents to 36 cents.

DIFFICULT BACK-TO-SCHOOL

Plano-Texas-based Penney cited a back-to-school shopping environment that has been challenging compared with last year. It said sales were softest in the first week of the month, but improved in the last three as customers shopped later in the back-to-school season.

Penney also expects same-store sales in September to fall in the mid- to high-single digits, compared with last year's 3.7 percent decline. It cited some negative impact from disruptions due to hurricanes affecting the Southeast United States.

Kohl's, which reported a 5.8 percent decline in August same-store sales, said its stores continued to experience weakness in southern and southwest states. By category, footwear and children's apparel performed well, while juniors and young men's apparel continued to show weakness.

Kohl's shares rose, however, as analysts had forecast a 7.6 percent decline in same-store sales.

While Costco's same-store sales were up, they fell short of the 9.6 percent rise analysts expected. Bernstein analyst Uta Werner said foreign exchange hurt international results.

Other retailers posted tepid sales results on Wednesday, including Walgreen Co , where same-store sales rose 0.9 percent due to two fewer weekdays in the month, the time when pharmacy patients fill more prescriptions.

Raymond James analyst John Ransom said the result was weaker than expected as the sale of generic drugs was a drag and he cut his fourth-quarter and 2009 and 2010 estimates.

Pier 1 Imports Inc reported a decline in second- quarter same-store sales of about 1.7 percent. The Fort Worth, Texas-based seller of home furnishings, whose shares closed down more than 9 percent, previously said same-store sales results would be slightly negative to modestly positive.

Pier 1 blamed expected weaker-than-forecast merchandise margins on deeper markdowns to clear out garden accessories and outdoor furniture.

Kohl's shares closed up nearly 3 percent at $52.46, while Penney gained 2.5 percent to $41.64. Costco rose a mere 7 cents to $68.33 and Walgreen fell 8 cents to $35.92. Pier 1 shares fell 9.2 percent, of 42 cents, to $4.13.

American Eagle, whose results were released after the market close, closed down 3 percent at $15.25 and did not change in after-hours trading.

(Additional reporting by Sarah Coffey in New York and Alexandria Sage in San Francisco; Editing by Brian Moss and Andre Grenon)
© Thomson Reuters 2023 All rights reserved.