Oxylane (Decathlon) returns to the U.S.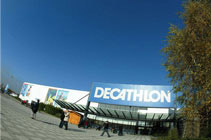 © Décathlon
Oxylane has just acquired a 12,000 square metre retail space plus land, in Ontario, California. This information announced by Sportéco and Lee Faris, American commercial real estate investment specialists, could mean the return of Decathlon to the USA. According to Faris Lee, the Oxylane group was attracted by the location of the site at the junction of two highways and near the Ontario Mills, one of the largest malls in California.
French newspaper Le Figaro quoted, "Oxylane seized an opportunity to buy land in California. However, it is premature to imagine any plans yet". The purchase of this area, 85% unoccupied, at $11.7 million, paid in cash, seems to indicate a return of Decathlon to the USA. In 1999 the sportswear label tried to live the American adventure with the acquisition of MVP Sports chain but sold it some time later.
The new acquisition could mark a milestone for the group towards internationalisation. Apart from in the European countries, Decathlon is present in Brazil, China and to a less significant extent in India.
Original by Sarah Ahssen. Translated by Rosie Hart
Copyright © 2023 FashionNetwork.com All rights reserved.